After months of planning, the event finally went off without a hitch. My husband is now officially the big FOUR-OH and we had a backyard party to celebrate. No matter how many lists I created and how much I planned, things came right down to the wire getting done. I only had a few seconds to snap some photos before the guests arrived. I didn't want to have the usual "over the hill" theme so I went with "40 and Still Lookin' Good". I found this fun t-shirt online and surprised him with his shirt for the party that day.  Thankfully he was a good sport.  I spent entirely too long painting this sign. We put it out by the highway the day of the party.  Hubby received random texts all day long from people that saw the sign wishing him a happy birthday.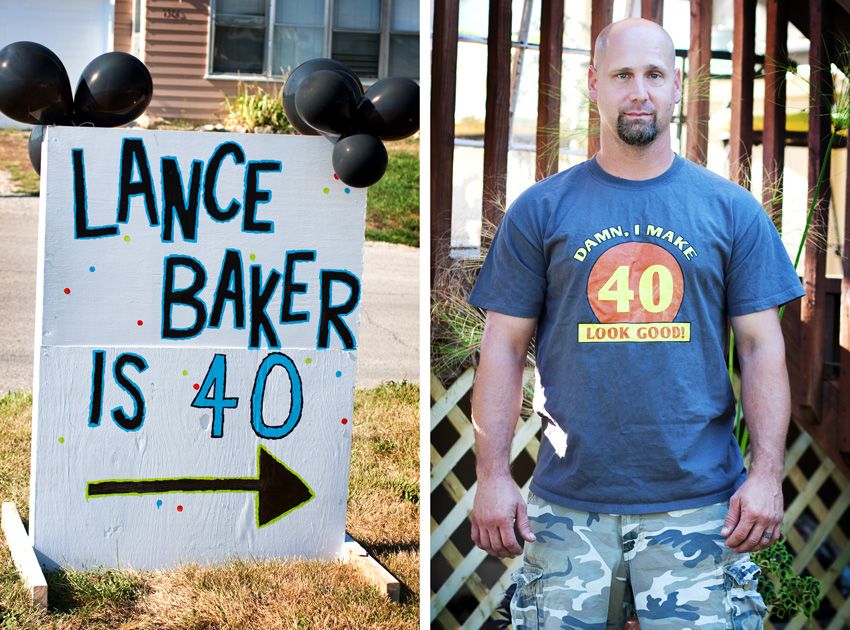 We made sure our quests were protected from the pesky mosquitoes.
The kids were entertained with washers, soccer balls, footballs and a volleyball net.  (We kept them away from the tiki torches.  Promise.)
I set up a table with some of hubby's memorabilia as he grew up and some crafty decorations I made. Most of my inspirations came from Pinterest.
Just a color printer along with frames and jars I had in storage needed for these decorations.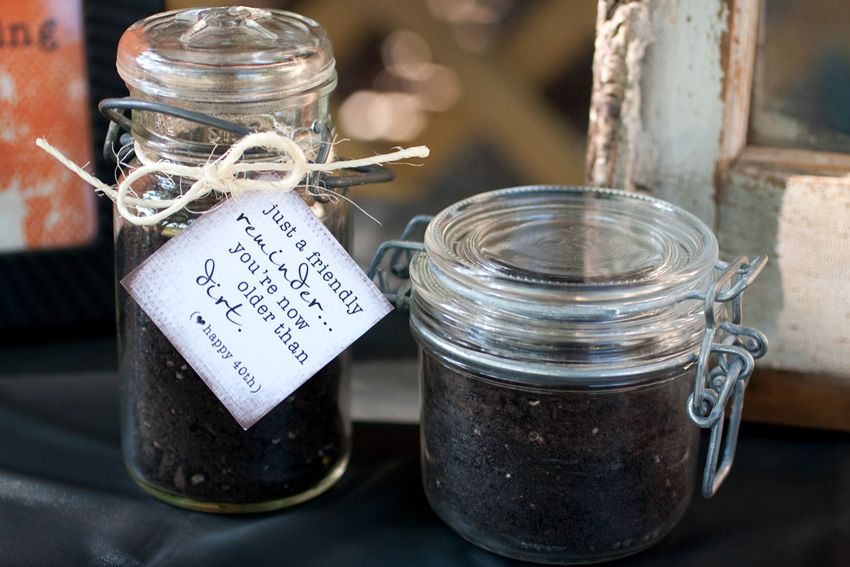 I had a rustic window in the shed that I pulled out and taped on the memorabilia. A black paper lantern was dressed up with burlap strips and torn black fabric.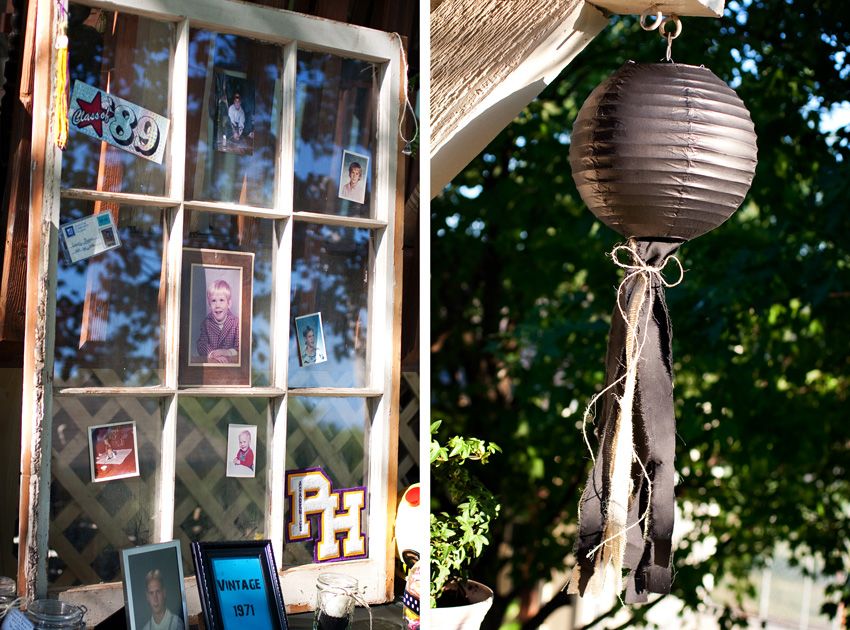 We made a gag gift basket. In the bottom was his real gift - a gift certificate for a sky dive. Now that's how you celebrate turning 40!
I made this pennant banner with the intention of being able to pull it out again each time the kids have a birthday.  I love how it turned out and it was super simple to make.  Just cut the triangles from burlap fabric, trace alphabet stencils with sharpie, fill in the letters with black paint and hot glue the tops of the triangles around jute rope.    
We had tons of food and I failed to get any pictures of it. I did grab a few quick shots of the cake made by Cravings by Carrie. I found the little guy on Etsy and she designed the cake around him.
I baked the sugar cookies and our daughter helped me decorate them.  We also had homemade cream cheese mints and regular, chocolate and peanut butter rice krispie treats for dessert.

It was a hot evening. We had plenty of water and soda on ice and pitchers of iced tea and punch. We transformed the fire pit into a drink cooler.
Finally, a couple of images after dark. We used our Christmas lights to illuminate the backyard. The tiki torches were filled with mosquito repellent. I filled some of my old jelly jars with black sand and white candles and finished them off with a little jute rope.
It was a wonderful evening filled with family and friends and I think my husband had an awesome time.  Thank you to everyone that attended.  Hope you had a good time, too.  Happy 40th birthday to a hard-working husband and dad!