The older I get, the more I think about my bucket list.  At the beginning of the year I shared some goals I set for myself over the next 1001 days.  We are at day 188 and I'm slowly making progress on my list.  As I cross things off, I find myself wanting to add new goals. 
This past weekend, I did something I never really thought I would ever do; I took part in a 5K Run/Walk.  I've said it before, "I AM NOT A RUNNER".  Never have been, still not sure I ever will be.  But, I'm proud to say, I crossed #13 off my list.  I can officially jog more than 60 seconds without dying.  That is due, in part, to crossing #4 off the list.  I've been exercising regularly and paying (a little) more attention to what I eat. 
I can not tell a lie.  We didn't run the entire route.  My goal was actually to just walk and complete the 5K.  With the help of friends that joined me, they pushed me to mix some jogging in with the walking and I'm proud to say, "I did it and I'M STILL ALIVE!". 
I've now added #102 to my list: Run an entire 5K.  Are you with me girls?  I'm going to need a LOT of pushing to accomplish this one.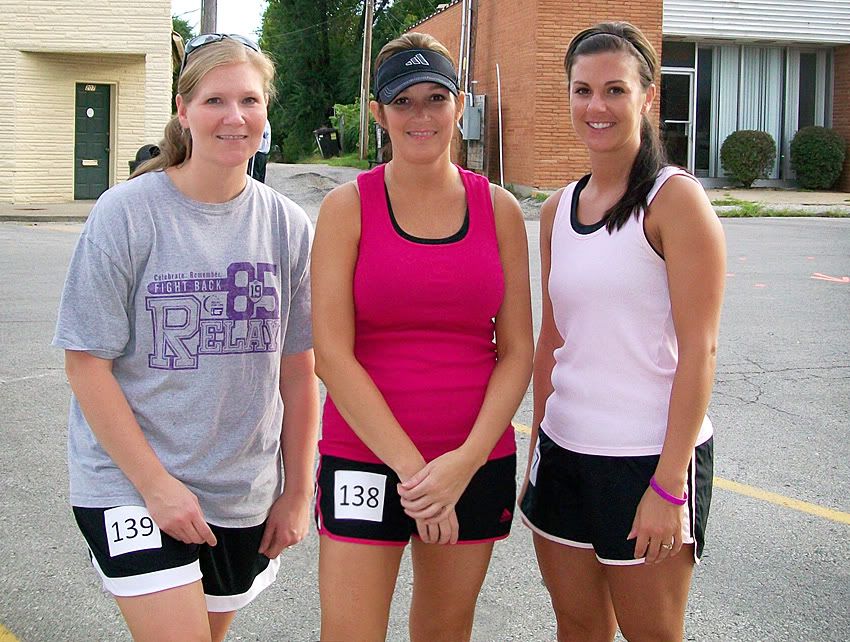 101 Things in 1001 Days 1. Update and actually 100% complete my business plan 40% there 2. Continue the path to becoming debt free  Half way there! 3. Complete the remodel of my basement studio  70% there 4. Exercise regularly  I've actually been doing this  5. Double CBP's blog traffic 6. Take a vacation somewhere tropical 7. Give up Diet Coke 8. Clean out my email box 9. Have my house 100% organized 10. Double my 2009 income 11. Hire a house cleaner 12. Grow my hair long again In the process 13. Run more than 60 seconds without feeling like I'm dying  I can do this now! 14. 100% complete CBP's marketing pieces 15. Organize all data on both computers 16. Go on a cruise 17. Get 2nd bathroom completed 18. See my photography published 19. Make a new friend 20. Hand draw my own line of holiday portrait cards Did this for Valentine's Day, working on Christmas cards now 21. Surprise a complete stranger with a random act of kindness 22. Expand on my accessories line 23. Remodel our daughter's room complete with new furniture  In process 24. Create CBP's own charity/scholarship foundation 25. Become less of a pessimist and more of an optimist 26. Take a cooking class 27. Hire a full-time employee 28. Get a new sports car 29. Take my husband to Las Vegas 30. Buy myself fresh flowers  31. Organize my recipes 32. Find time to scrapbook again 33. Expand on advertising my business locally 34. Successfully make my mom's fudge recipe 35. Find a wine that I like 36. Expand my knowledge of off-camera flash Working on this 37. Get a massage 38. Buy our own lakehouse and boat 39. Learn to be less shy 40. Take a dance class 41. See my photography displayed in a fellow business 42. Go parasailing 43. Sing infront of a crowd again 44. Take my kids to Disney World 45. Get season tickets to the Royals and/or Chiefs 46. Learn to play golf 47. See my photography business expand so I can eventually quit my "day job" 48. Remove/replace all carpeting in our house 49. Talk my husband into a pool at our house 50. Get a bicycle...and ride it 51. Go storm chasing 52. Grow a vegetable garden 53. Return to New York with my husband 54. Flip a house Working on one now 55. Ride in a hot air balloon 56. Attend a major photography expo 57. See my husband only have to work when he "wants to" 58. Take a road trip with no destination in mind 59. Triple what we have in savings right now 60. Ride a horse on the beach 61. Do something extraordinary for my 40th birthday 62. See my husband get another motorcycle 63. Go on a wine tasting tour 64. Learn to swing dance 65. Spend a day doing anything and (almost) everything my daughter wants to do 66. Spend a day doing anything and (almost) everything my son wants to do 67. Experience Sturgis 68. Have any and all ugly blemishes removed from my body 69. Have a completely custom website and blog created 70. Take my daughter ice skating 71. Take my son skiing 72. Find a hot drink that I actually like so I'm not so cold all the time 73. Talk my husband into letting me get a new dog 74. Create a portrait garden 75. Attend church on a regular basis 76. Go on a float trip for the first time ever 77. Enter a PPA marketing competition 78. Meet up again with my college roommates 79. Be a wedding planner/consultant for a wedding 80. Donate my hair to Locks of Love again 81. Have my teeth whitened 82. Enter a print competition 83. Get my husband more involved in my photography business 84. Attend a Super Bowl and/or World Series game (preferrably with the Chiefs and/or Royals IN the game) 85. Eat at The Melting Pot 86. Complete and successfully follow through with my studio events calendar 87. Donate blood 88. Take a cake decorating class 89. Adopt a kitty 90. Allow myself time on a regular basis to relax and not feel guilty about it 91. Throw a party for friends and family 92. Drink more water 93. Win something...anything 94. Learn to be more of a morning person 95. Get new bedroom furniture 96. Eat "all you can eat" crab legs again 97. Finally learn how to put on make-up correctly 98. Learn to not care so much what other people think 99. Enjoy a professional manicure/pedicure with my daughter 100. Complete my taxes by February 15th at least once 101. Volunteer for Habitat for Humanity
102.  Run a 5K