Two years ago we remodeled our daughter's room.  Over the winter we remodeled our son's room.  Please tell me it's not just me.  I can't seem to get one single room completely finished and exactly as I pictured.  There's always something missing on the walls or a piece of furniture we haven't gotten yet.  I am bound and determined to complete both of their rooms this summer.
First on my list, I needed a statement piece one the main wall in our son's room.  I found a fun multi-colored abstract canvas that would have worked at Gordman's.  At $50, it really was a pretty good buy.  Then that darn voice in my head said, "Why can't you paint something yourself with the supplies you already have on hand?".
Several weeks later, I finally had a few free hours so I dove in and gave it the 'ol college try.  I gathered the supplies and channeled my grandma's artistic skills.  I had wanted to try watercolors for awhile and when my grandma passed away, I was lucky enough to get to keep some of her supplies.  This is what I came up with.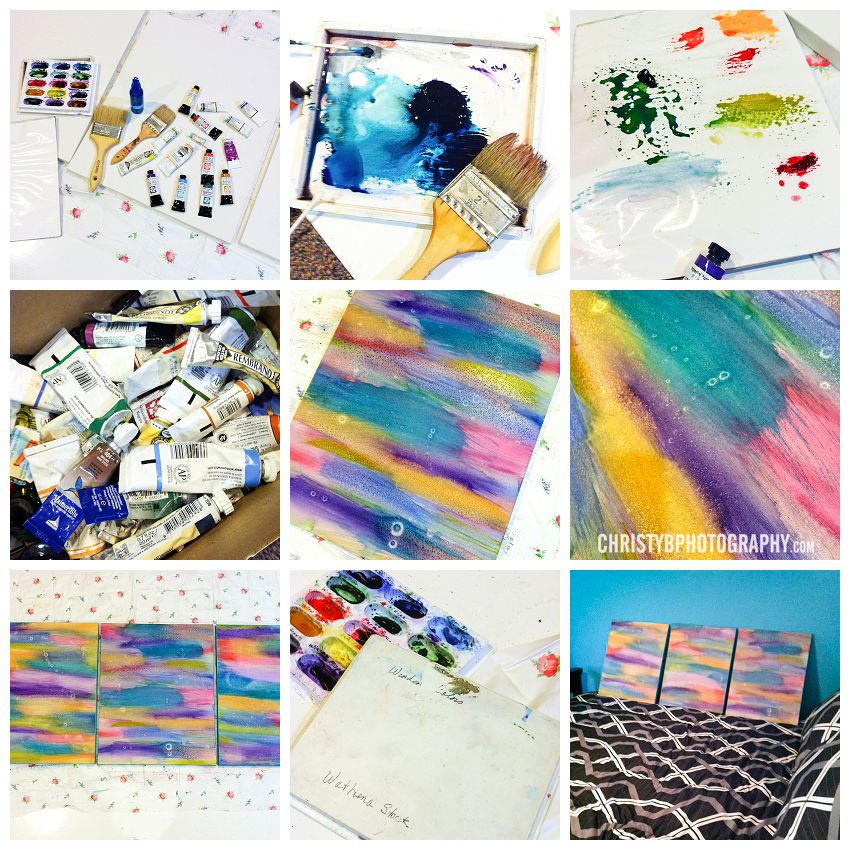 I had originally envisioned one large canvas. I had three 11x14 blank canvases at home. I liked the idea of three similar paintings side by side over one large canvas.  So far so good.
I knew I wanted something abstract with lots of color.  I tried to pull out the teal color of the walls along with other complimentary bright colors.  I wet my canvases and painted on splotches of colors with a wet on wet technique.  Then I distressed the paintings a bit with an alcohol splatter process and a salt process on the wet paintings.  All in all, I liked the trio but I as I looked at the finished pieces, they just didn't WOW me and they reminded me of something more for a girl's room rather than a guy's room.
With a sinking feeling, I took them to our son's room and asked my family for their opinions.  The consensus was a negative on the paintings.  They just looked too girlie and weren't the best option with the bedspread.  WHY DIDN'T I JUST SPEND THE $50 AND GET THE STUPID RETAIL CANVAS?  That darn voice in my head gets me every time.
Oh well, the good thing about painting is, I can just paint over the first creation and try something else.  This time, I think I'm going for acrylic paints, fewer colors and a more grungy distressed look.  If I ever manage to get the room completely finished, I'll share the finished product on the blog.  Then again, I may just go buy that silly canvas and be done with it.  We'll see.