I'm a fairly frugal person, though I do like to spoil myself at times. Who doesn't? There are so many portrait products available out there. When I look at the various products that Christy B Photography could carry, I find myself asking, "If I were my client, would I buy this?". Especially if it is a more pricey item.
When these image boxes hit the market, I instantly knew I personally wanted them. But I admit, they aren't exactly dirt cheap. I debated with myself. "Do I want to try these? Are they really worth the money?" I bit the bullet and placed the order. AND I AM SO GLAD I DID! They are very well constructed and substantial, not flimsy at all.
I used to scrapbook in my spare time. When I started my photography business, the scrapbooking was put on the back burner. That was three years ago and hundreds of photos later. I know have images boxes for each child to safely store their photographs and display on a bookshelf or coffee table instead of throwing the photos in a plastic tub until I find time to sort through them. Believe me when I tell you, these are SO worth it! I love them!
The image boxes are available in two sizes, wallets and 5x7. The outside of the boxes can be custom designed with your choice of background, images and wording.
I can see the wallet boxes as the perfect keepsake for high school seniors to forever store their wallets of all their senior friends. The wallet boxes come in two options - single (holds 50 wallets) or double (holds 100 wallets). Shown below is the double wallet box. Each box has a convenient magnetic closure to securely hold the images inside.
I recently went through my old senior book. I had wallet after wallet of my friends senior pics taped in my senior book. Now, (many) years later, the tape has turned yellow, is ruining the pictures and they are falling out of the book. Too bad they didn't have these wallet boxes back then!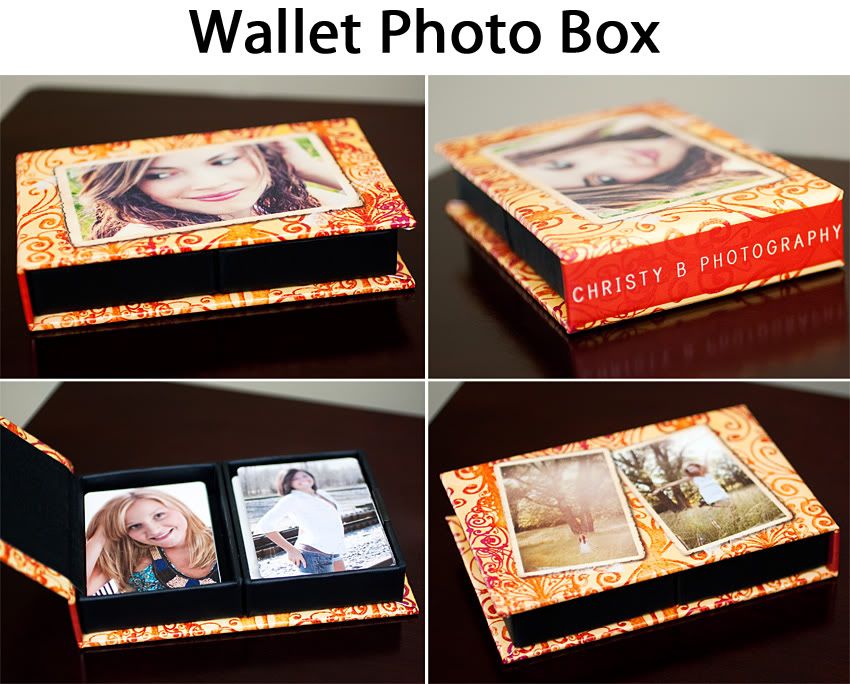 The 5x7 image boxes also come in two sizes - regular (holds 100 images) and large (holds 250 images). The large is shown below. They can hold 4x6 and/or 5x7 prints. There is a handy ribbon to easily pull the images out of the box without damaging them.
If you aren't a scrapbooker and feel guilty about haphazardly throwing photos into a box or drawer, this is your chance to safely display them in no time at all. And you'll look like Martha Stewart with your image boxes neatly displayed containing photos of your family.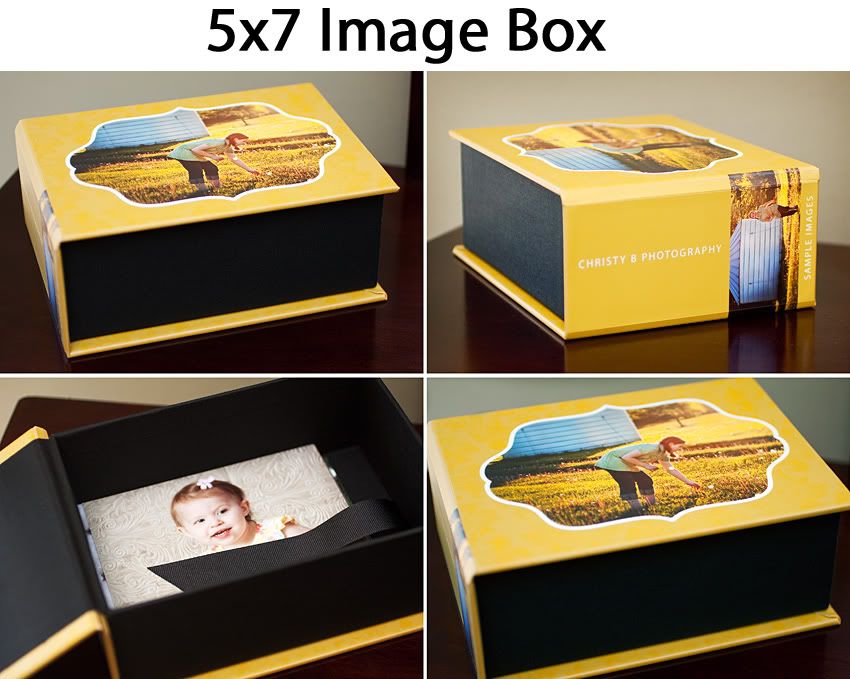 These image boxes will be added to Christy B's Product Guide immediately and available for purchase.  Just in time for the upcoming holidays, they would make a great gift!  If you are interested in pricing, just drop us an EMAIL and we'll send you a Product Guide.