The beginning of summer is full of promises of long summer days, vacations, and carefree fun in the sun. Regrettably we allow the reality of work, bills, practices and other obligations to take precedence over some of the fun. Before we know it the start of a new school year is upon us and the summer has flown by before our eyes.  That is exactly what happened to my family this summer.   With work waiting, grass that still needed to be mowed and a house that desperately needed to be cleaned, we dropped everything and finally took a mini family vacation to the lake.  It's hard for us to stop day to day life and sneak in some fun but it was so worth it once we did!  There were hours spent on the lake, tubing, cliff jumping, rope swings, four wheeler rides, naps, a stop at the corner ice cream shop, quiet walks and lots of fun.  (And a some whining and arguing, too, but we're just going to try to forget about that part.)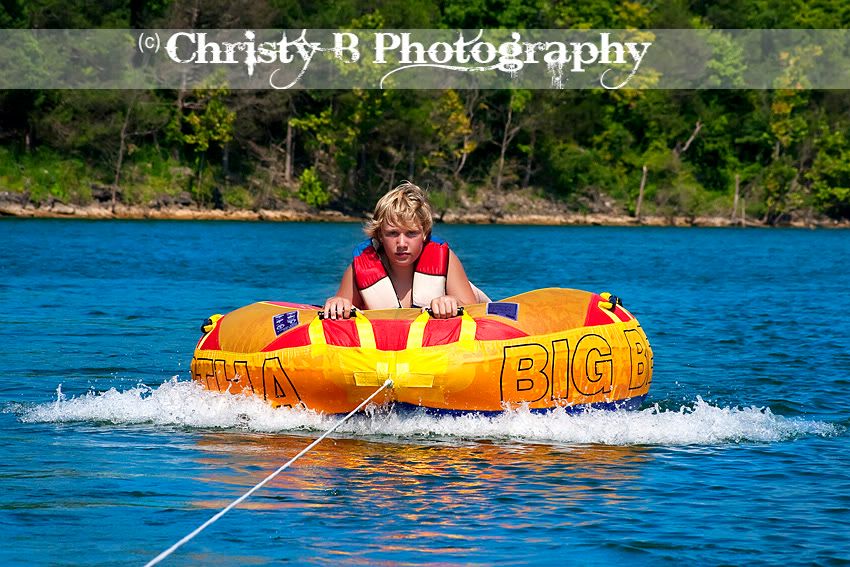 On this trip, I brought my camera and took tons of pictures as I enjoyed the lake house my grandparents built years ago when I was a kid.  I couldn't help but wonder how many more opportunities I would have to spend summer weekends with my family at that house.  There has been talk of them selling the place in the not-so-distant future.  It was bittersweet sharing with my own kids stories of my summer weekends there growing up.  The countless games of HORSE on the basketball court painted on the driveway.  Waiting on Grandpa to come back from his early morning fishing trips  before eating breakfast.  Rubber snakes carefully placed in random beds throughout the house to find when you snuggled in for a good night's sleep.  Ruthless family ping pong matches.  Water balloons launched at unsuspecting souls as they walked up the long path from the dock.  Debates on the "proper" way to eat corn on the cob - round and round or like a typewriter.  The house decorated with gifts collected over the years of about every fish and duck knick knack known to man.  Family tennis matches that rivaled Wimbledon.  Grandpa, AKA Bud Collins.  Grandma, Billy Jean King, in her own right.  And the bubble gum machine  where we snuck handfuls of gumballs at a time.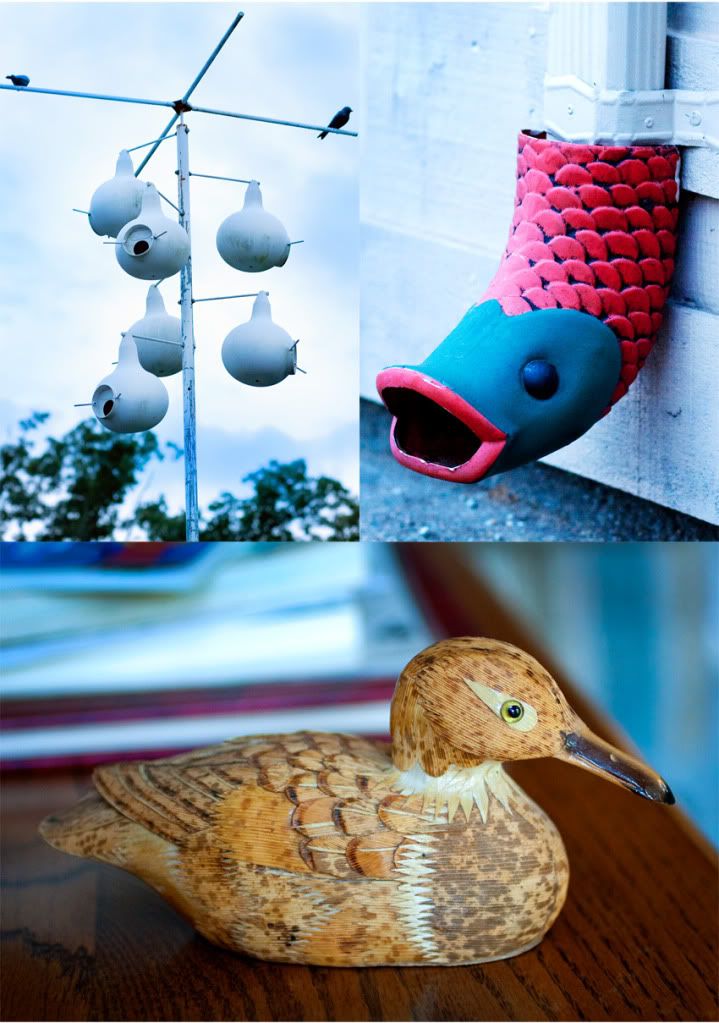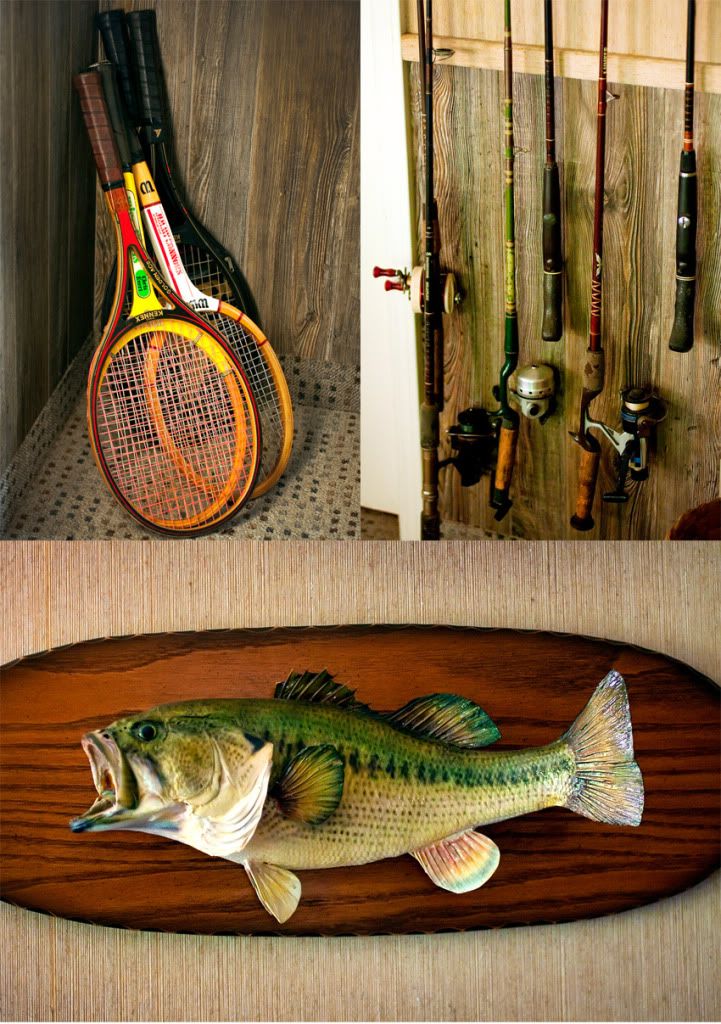 Walks with the women of the family around what was then called Swiss Villa.  Admiring the a-frame chalet houses and unique decorations while collecting wildflowers, that my father was allergic to, to adorn the kitchen table.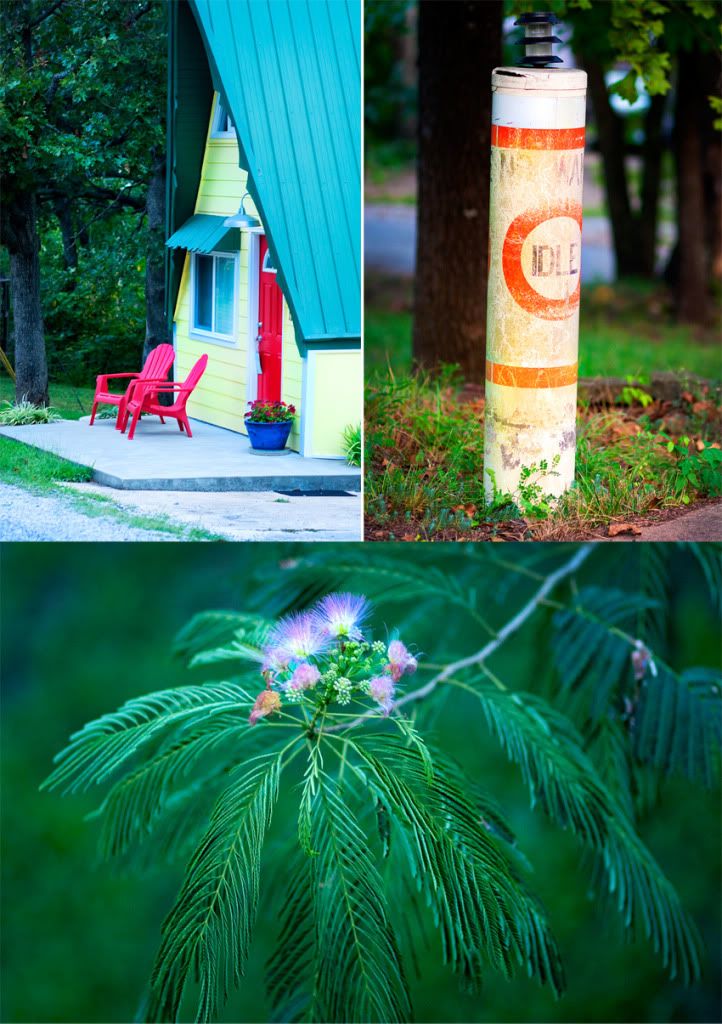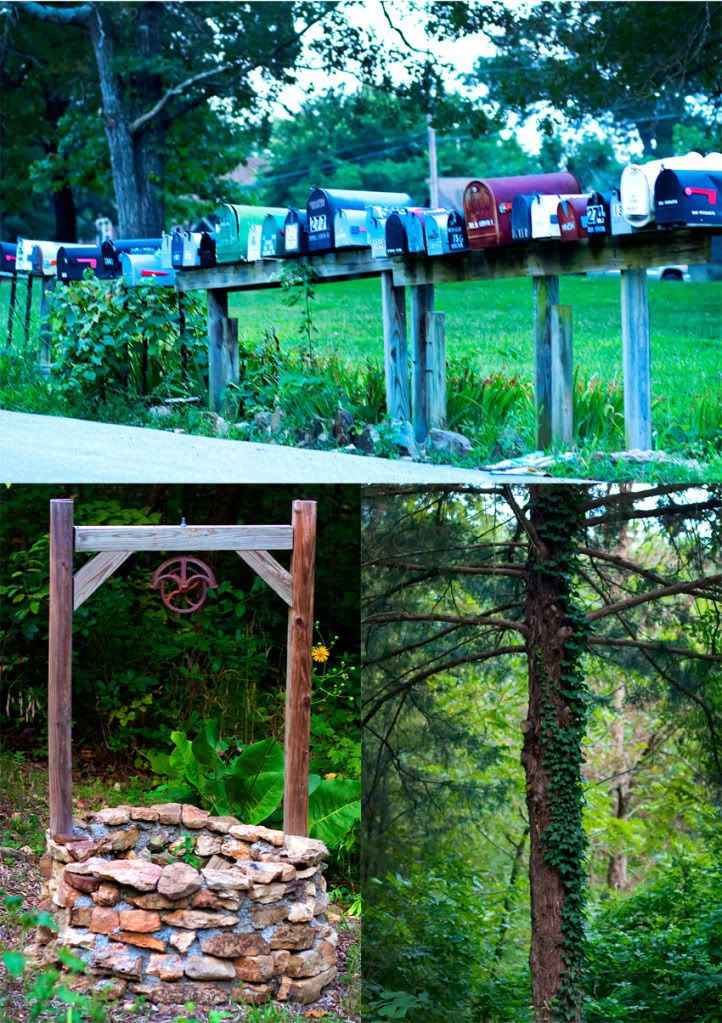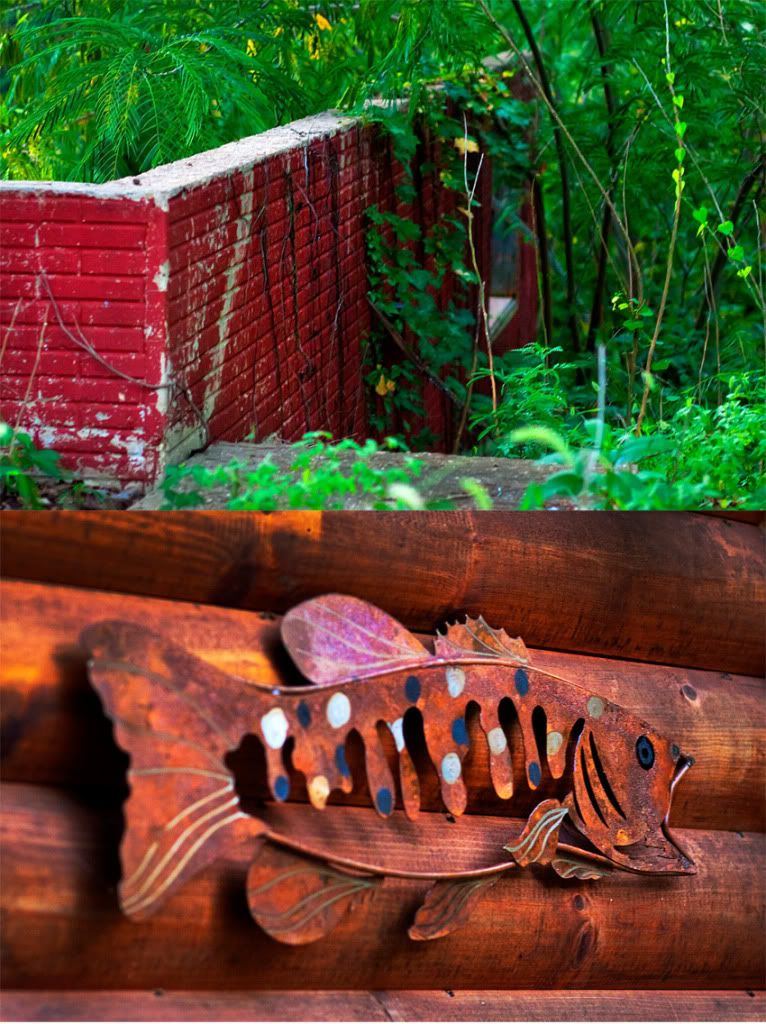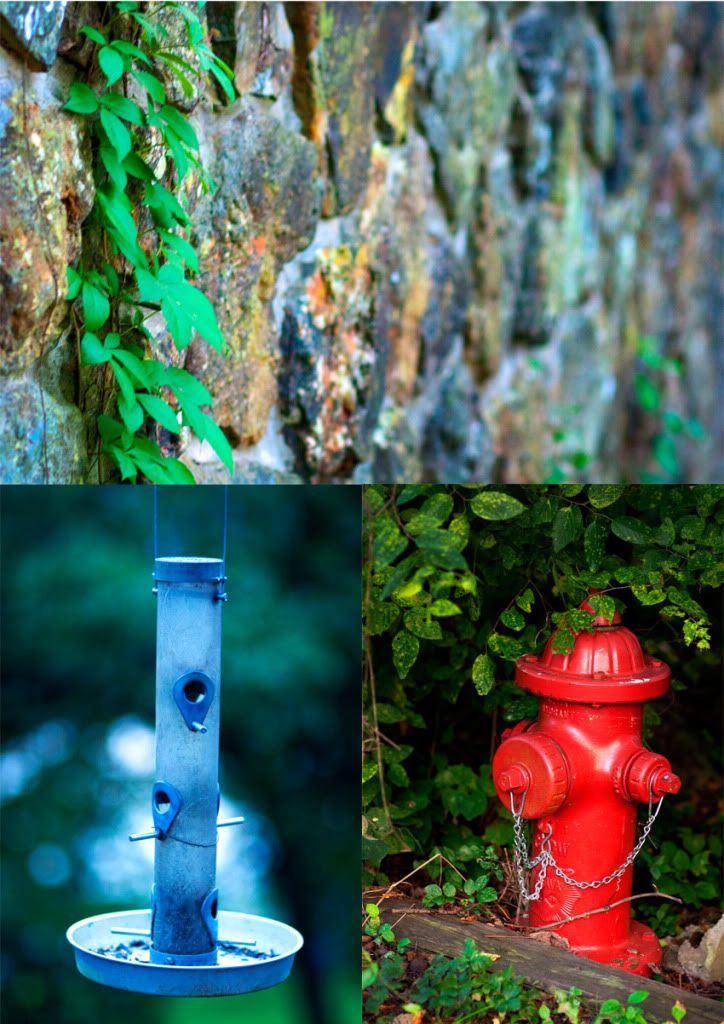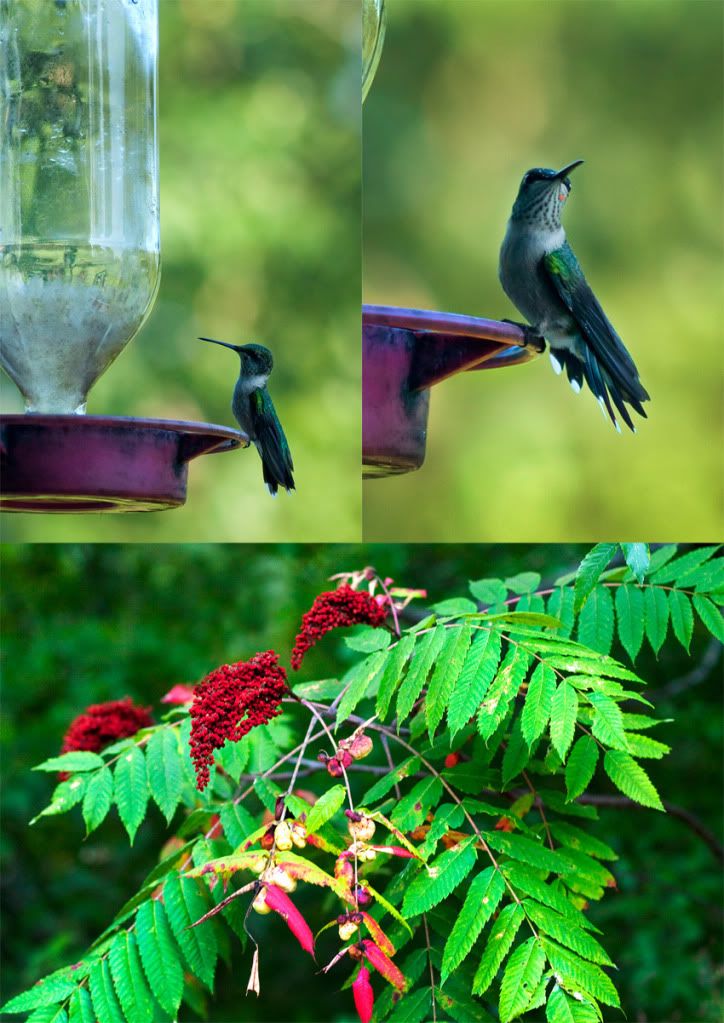 Riding four wheelers on the trails. The boys making their own trails on the four wheelers - at least until a tree jumped out in the way.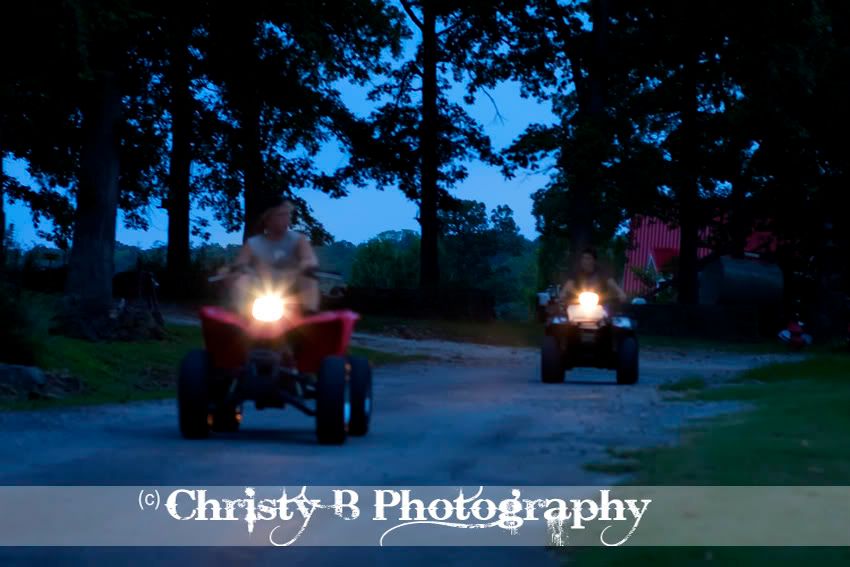 Deck railings lined with wet beach towels and swimsuits.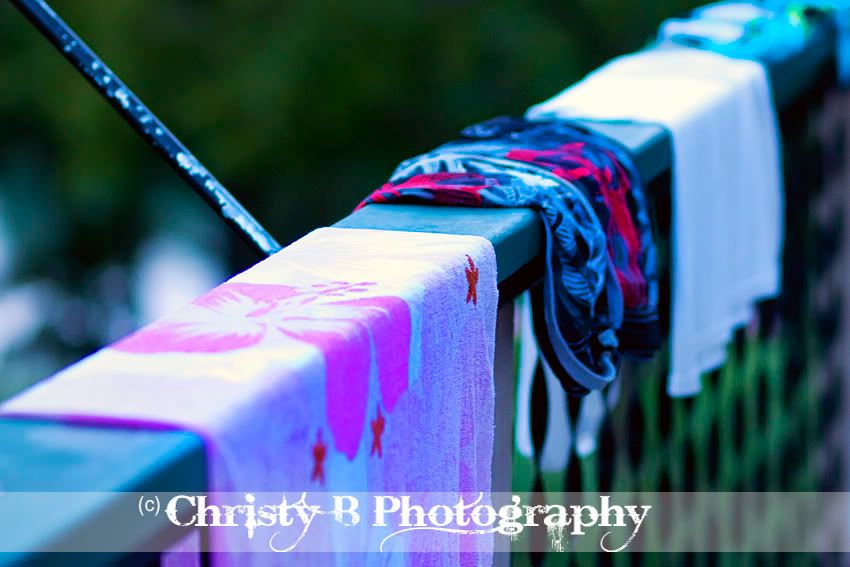 Grandpa "checking the boat batteries" (secretly fishing off the dock) at night.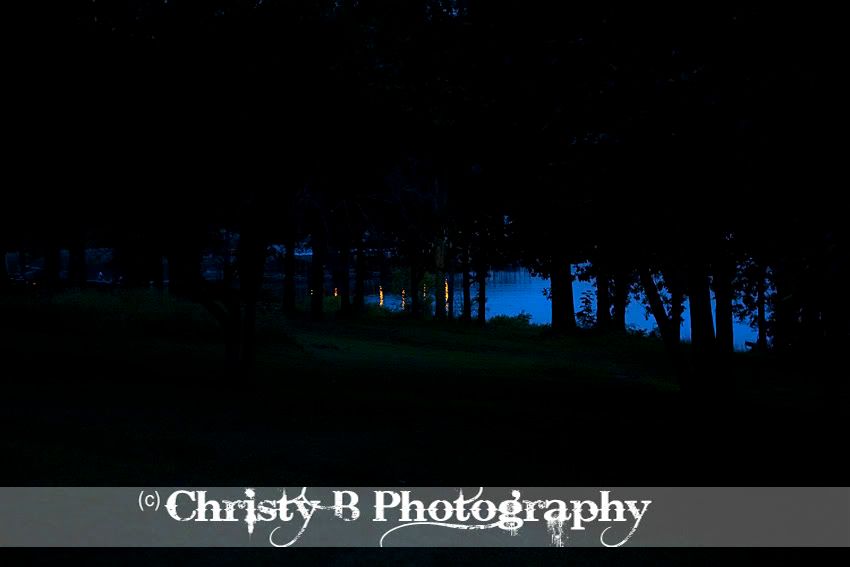 Ice cream treats and trinket shopping in town.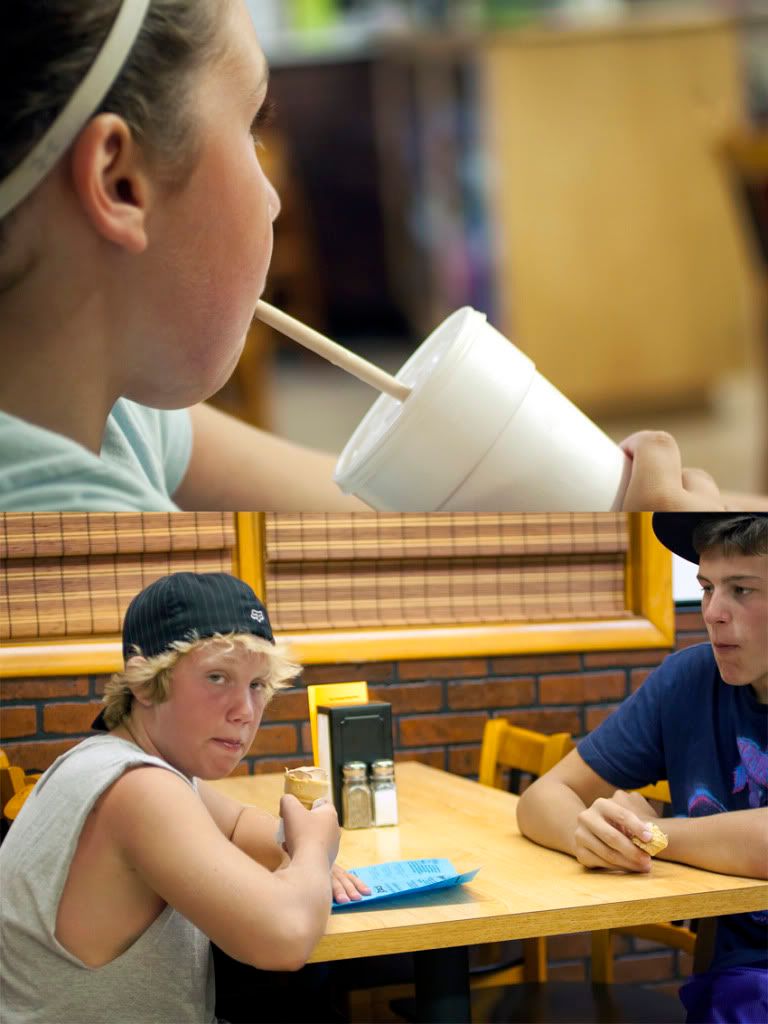 Adults taking cat naps while the kids restlessly waited. "Only twenty minutes", they would say. I swear it was more like an hour or two.
Hot days spent on the water with friends. The rope swing and people watching at the cliffs.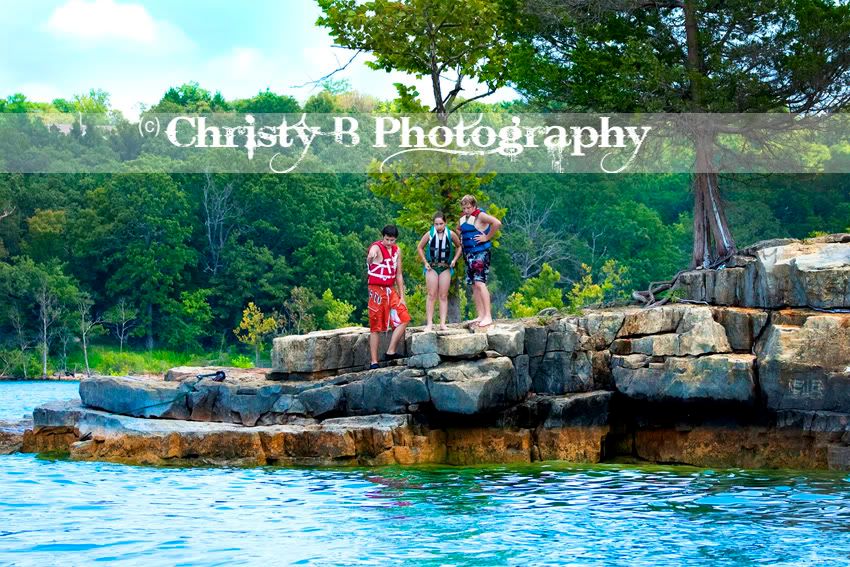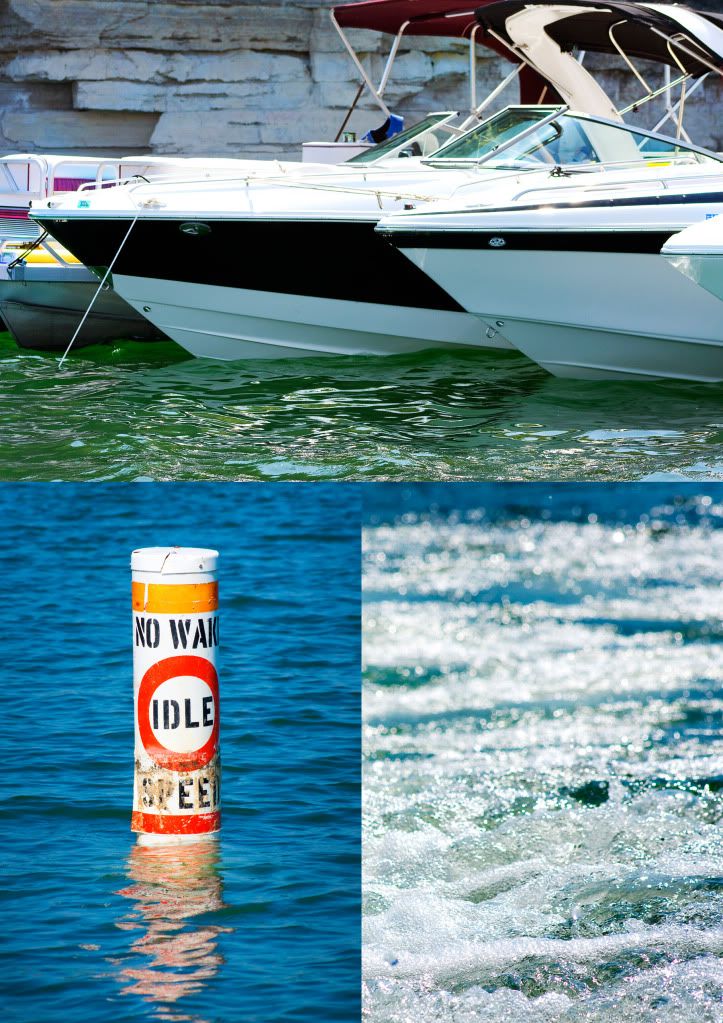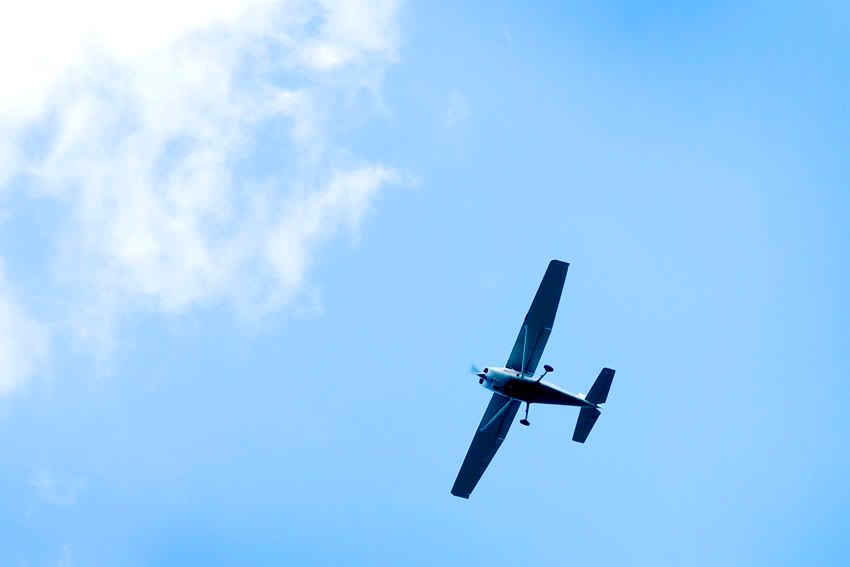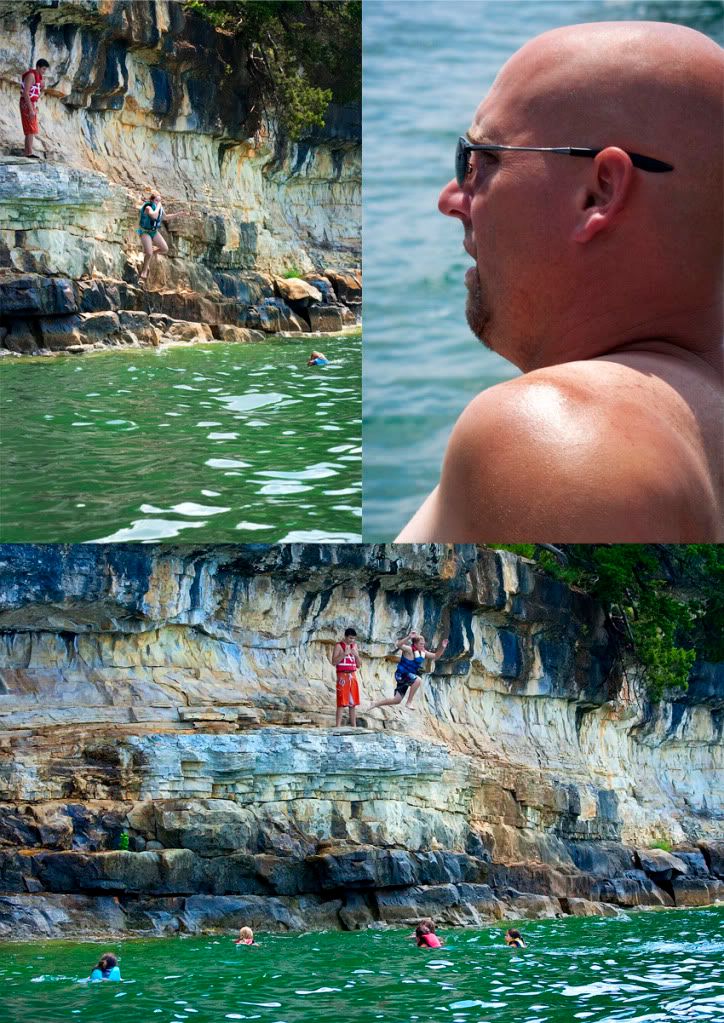 Brave souls that climb to the highest point and jump.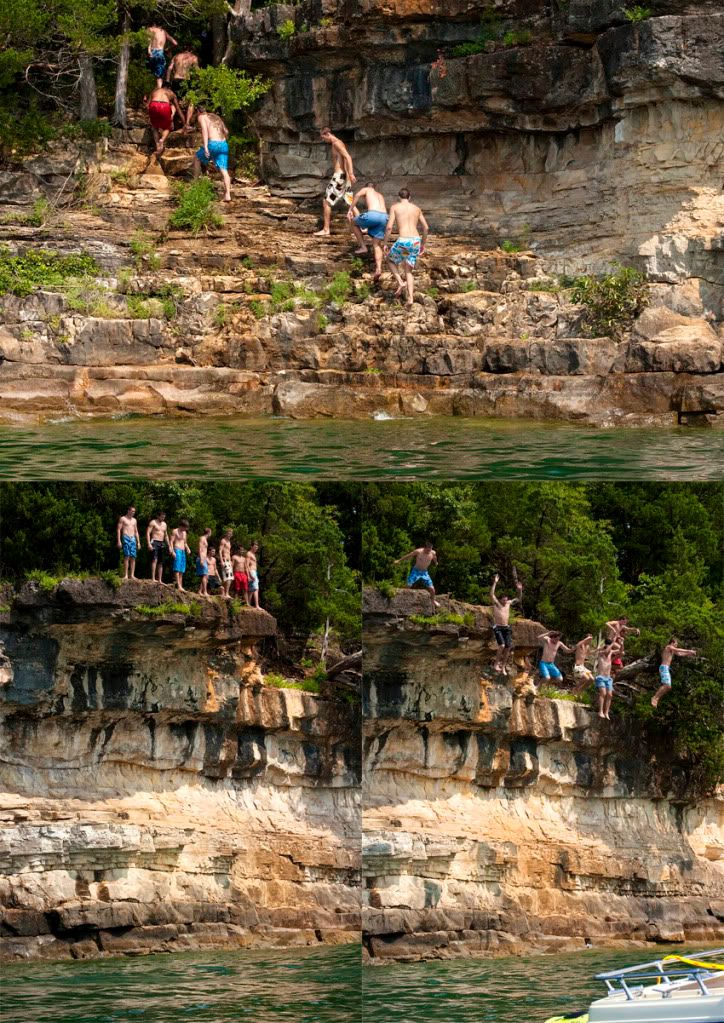 And, of course, plenty of water sports. Jumping the jet ski over the biggest waves we could find. Adults fixing the jet ski. Learning to water ski. Sitting in the boat for what seemed like hours on end while the next family member learned to water ski. Riding the torpedo and the tube comparing who had the worst crash.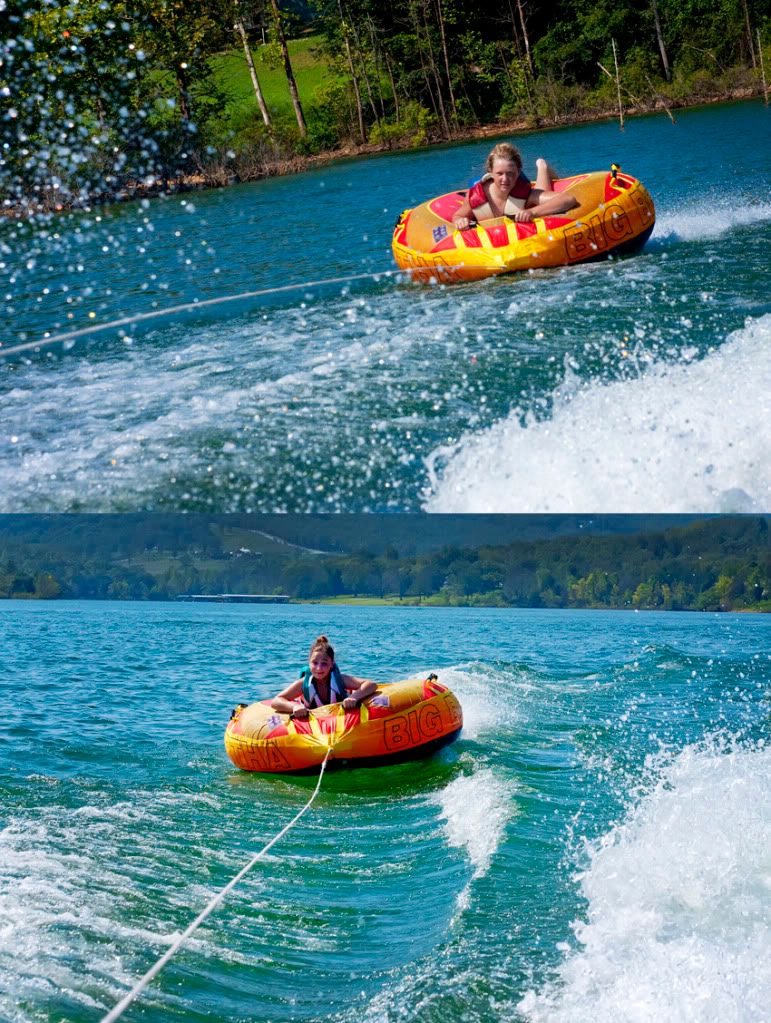 This year I'm lucky enough to have new memories of times spent at the lake with my own family. I learned that our daughter is a little dare devil and loves water sports.
The kids had a great time jumping from the cliffs.
My husband couldn't be outdone, so he had to take a turn, too.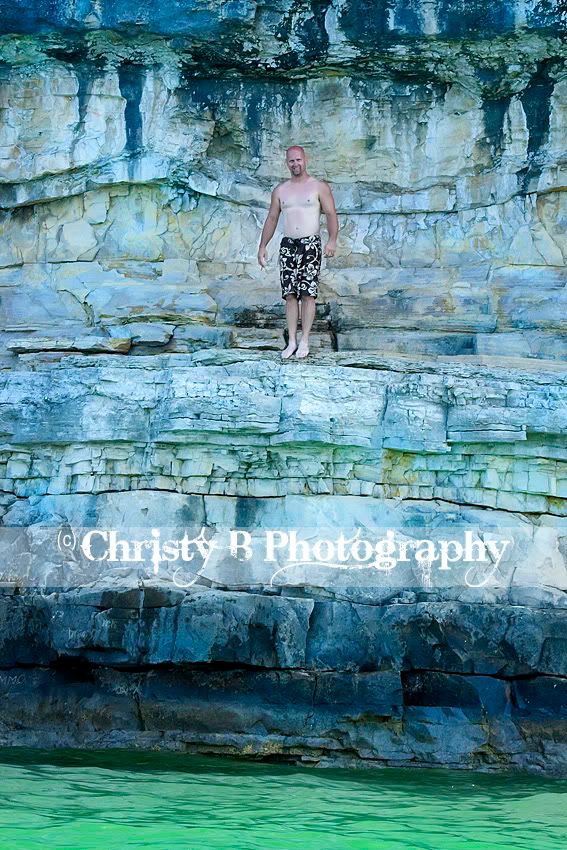 While on the lake, we got to witness a sea plane landing right in front of us.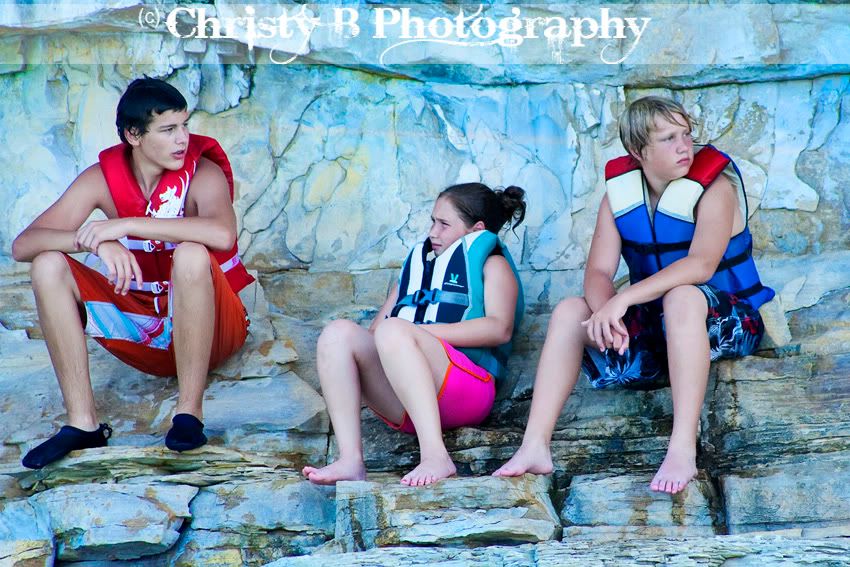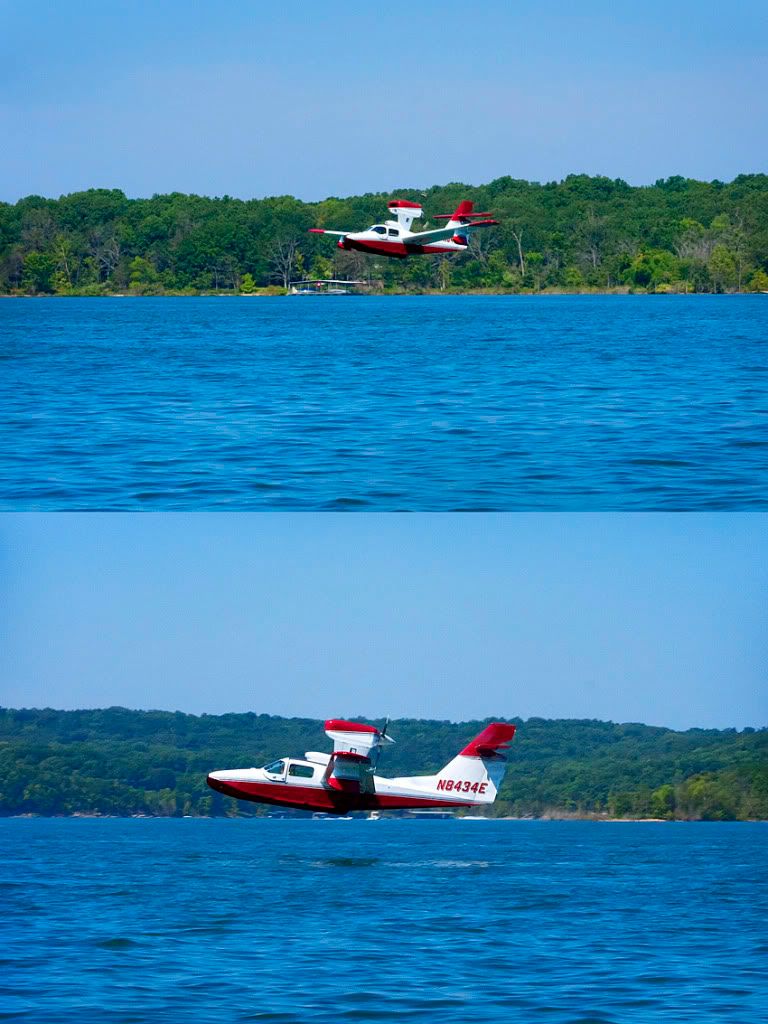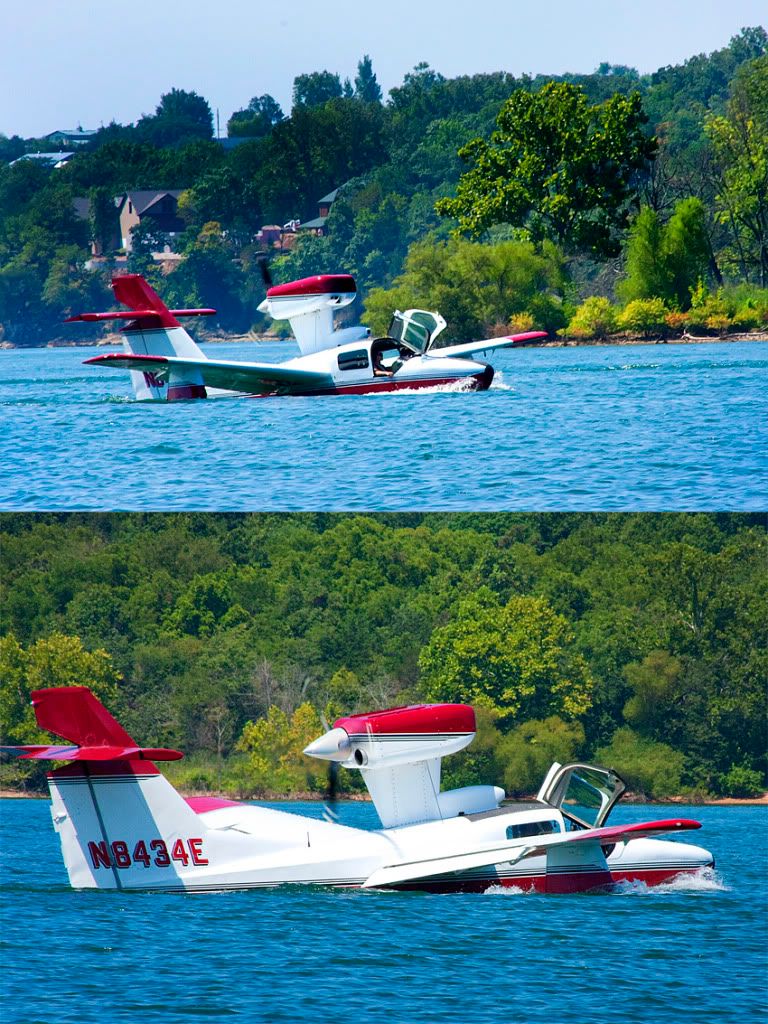 My kids are braver than I knew. Our son worked up the courage to jump from the highest point.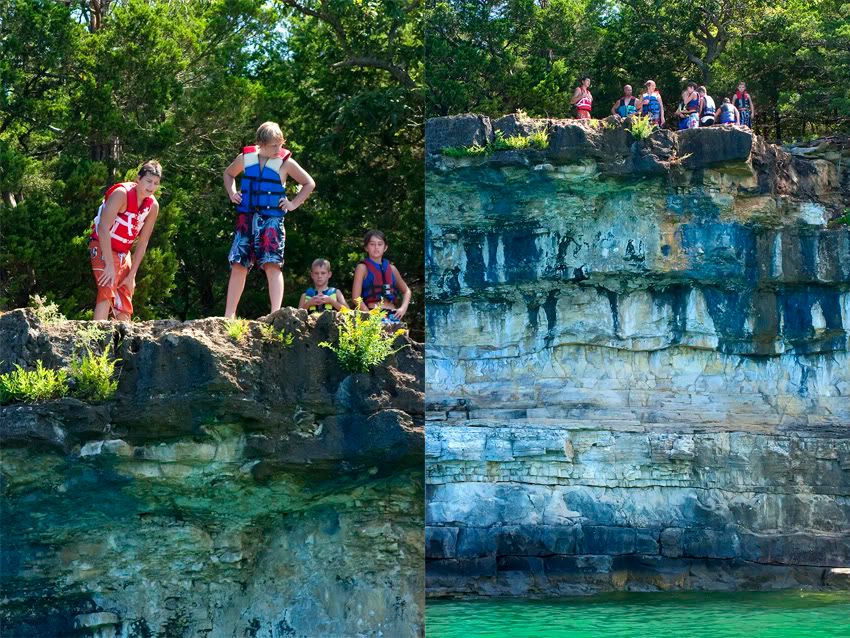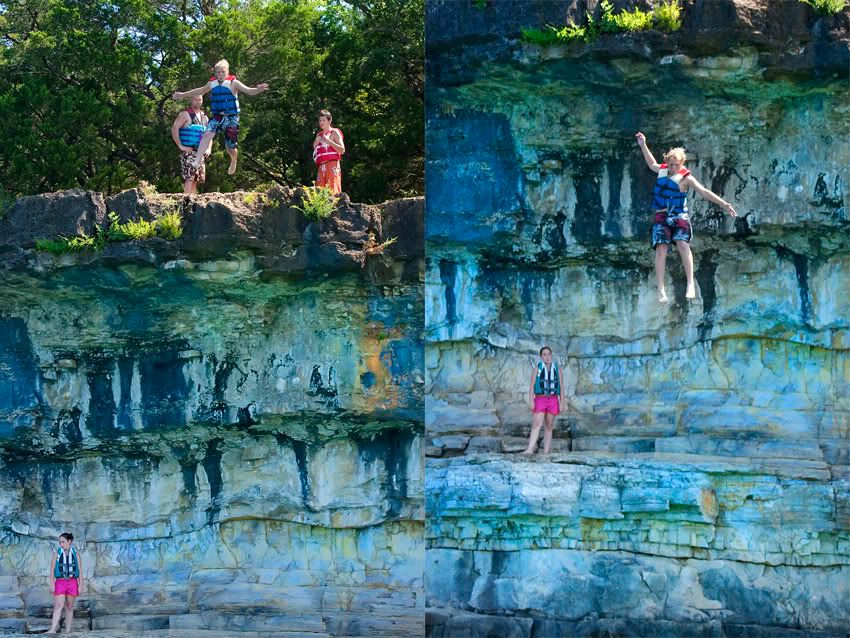 Look who, once again, couldn't be outdone and had to join them. Happy birthday, today, honey. You can still play with the best of them.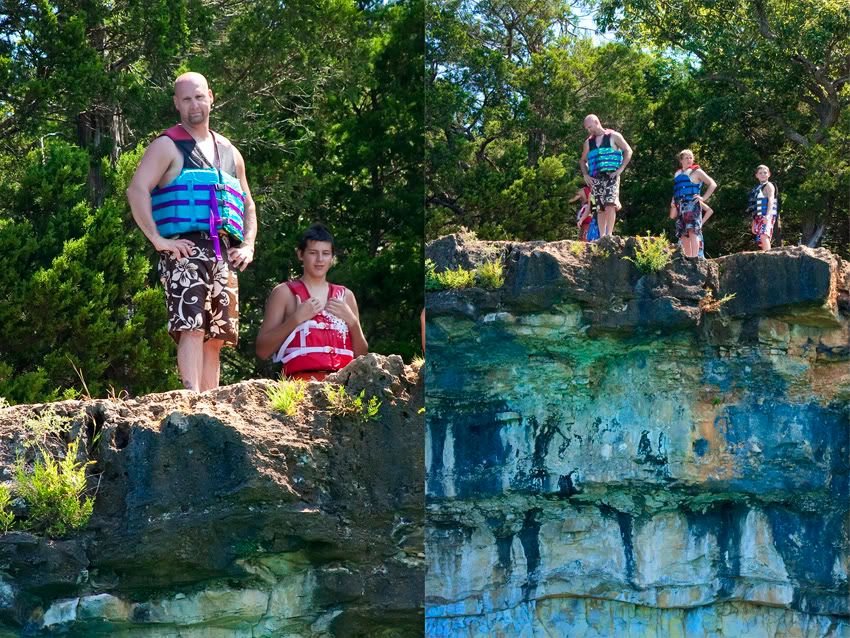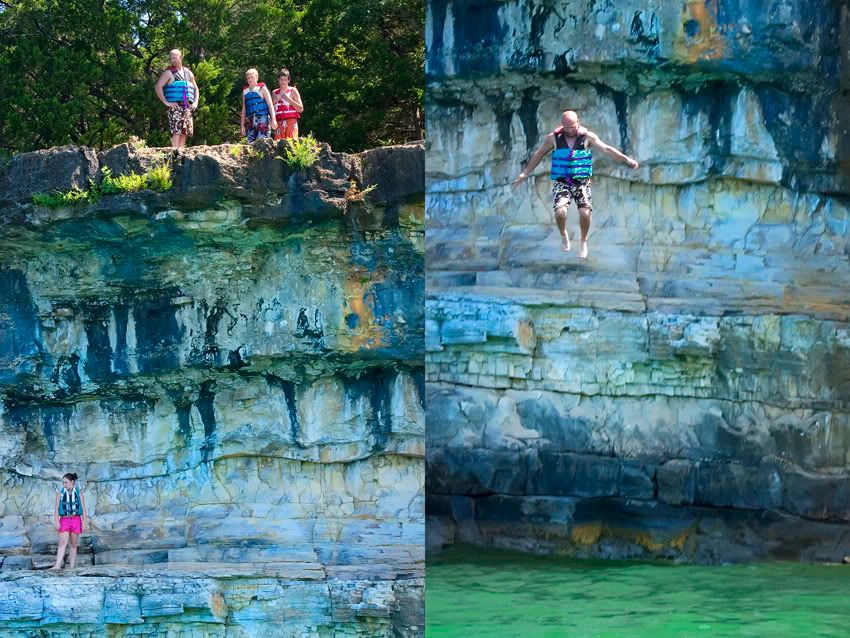 I can only hope we have been able to instill the same fond memories of our grandparent's lake home in our children. How blessed we are!