You finally decide you are up for the challenge of getting everyone together for a family photo. Then is hits you. "What are we going to wear?" It's hard enough for you to dress yourself in something you actually feel good in on a day to day basis. How on earth are you going to find outfits for the entire family that look good together?
It's actually not as difficult as it seems. With a few simple tips and tricks your family will look like rock stars in your family portraits. First of all, try to think outside of the box. Instead of jeans with white shirts or khakis with black shirts, pick up to three coordinating colors that everyone in your portraits agree upon. Using the chosen colors, allow each person to select a coordinating outfit they are most comfortable wearing. This will help bring out each individual personality in your portraits. Don't be afraid to add a few accessories to your outfits. Hats, scarves, hair flowers or funky bracelets are always fun. Most importantly, don't stress out about your wardrobe. Enjoy the process, try to find clothes each family member is comfortable in and it will shine through in your images.
Here are a few samples of different possible color schemes for summertime.
LOVE THE USA
Red, White & Navy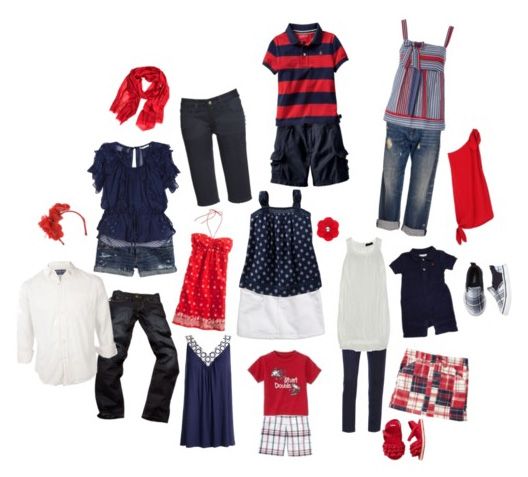 PURPLE PASSION
Purple, Gray & Black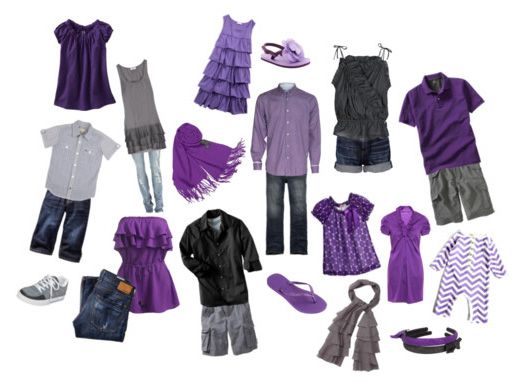 SUMMER SUNSHINE
Yellow, Orange & Khaki