Welcome to the peek into my closet again this week.  It always feels good to be sporting new clothing items.  My trend this season seems to be striped shirts.  I've purchased three new shirts for spring/summer and all three happen to be striped.  This first outfit it what I wore to our family get-together on Easter.  The striped shirt I like.  The new capri jeans, not as much.  At separate times, my husband and son told me they looked like grandma jeans.  When I bought them, they were a tad bit big.  I thought if I washed and dried them once, they would be perfect.  Yeah.  They're still too big.  But when I channel my grandma wearing them, I sure am comfortable!
Shirt - New York & Co. / Jean Capris - American Eagle / Sequined flats - Kohl's / Necklace - Charlotte Russe / Earrings - Icing / Watch - The Buckle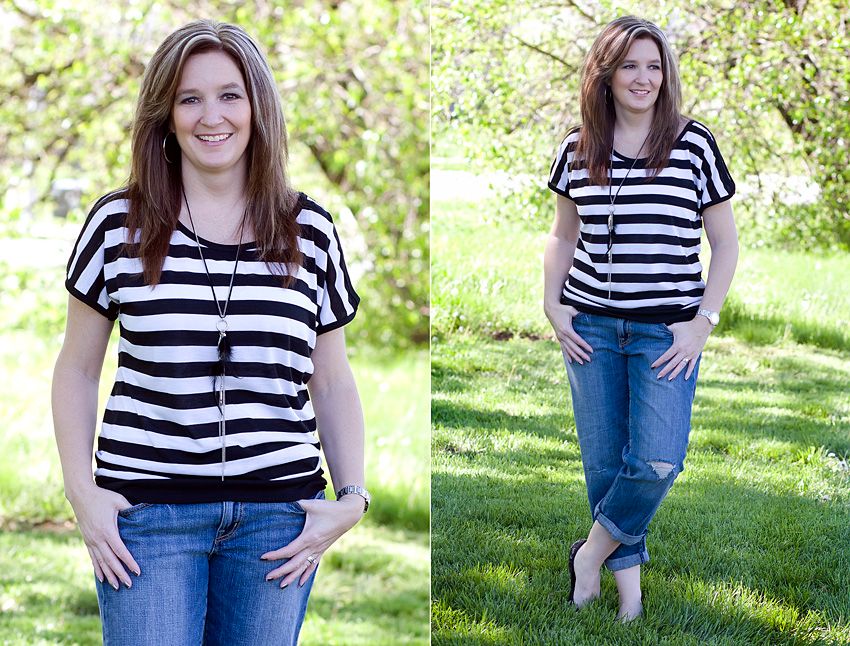 This is an old outfit I pulled out when I needed something to wear to a visitation for a friend of my husband's.  I rarely have occasions to dress up and curl my hair.  I had to hope that something in my closet still fit.   This outfit lasted for the hour we were gone.  As soon as we got home that Saturday evening, I changed out of the heels and slacks, threw on my granny jeans and off we went for a romantic dinner at Perkins.  I fit right in in my attire and we were home in bed by 9:30pm.  Not even kidding.
Shirt - JC Penney / Cami - Kohl's / Slacks - Kohl's / Heels - Target / Earrings - Icing / Watch - The Buckle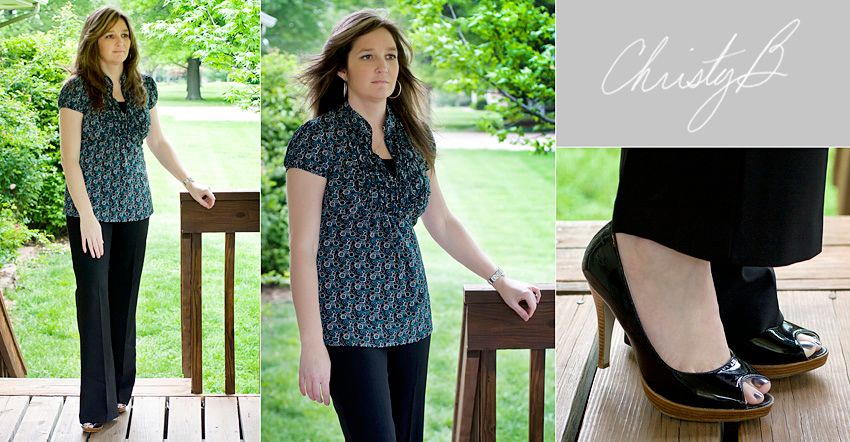 I'm telling you, these hip granny pants are comfortable.  Here they are again after washing and drying.  Still not flattering but I'm not going to let a new pair of capris sit in my closet.  I didn't really go anywhere this day.  I just wanted to wear my new TOMS flats. Speaking of comfortable.  My grandma would approve.
Shirt - Maurices / Jean Capris  - American Eagle / Belt - American Eagle / Flats - TOMS online / Earrings - gift / Watch - The Buckle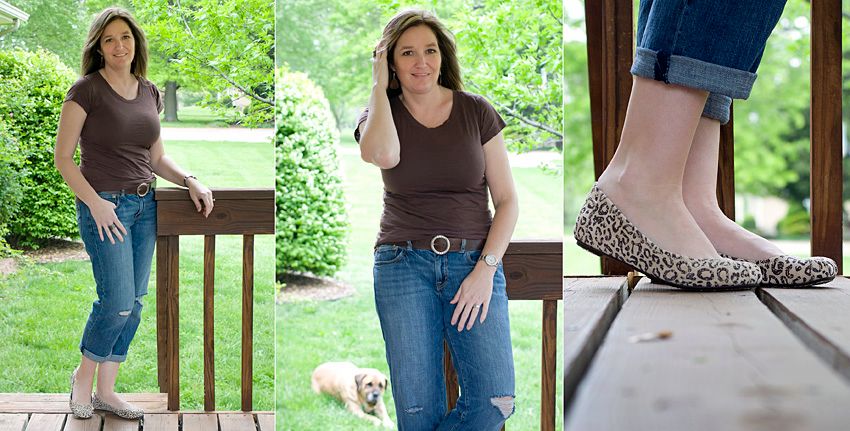 Don't forget to visit THE PLEATED POPPY'S WHAT I WORE WEDNESDAY LINK UPS while you're browsing the internet. And, thank you for your sweet comments on my outfit posts each week. I love to read each and every one of them and make sure to return the love!!