I finally got it done!  I spent the weekend cleaning out closets and switching winter and summer clothes.  It's NOT one of my favorite tasks but it always feels so good when it's done.  Bring on the summer clothes! (And a garage sale May 10, 11 and 12 to get rid of all the things we have out grown.)
This first outfit is a repeat from last summer.  I wore it again last week to take my daughter shopping with her birthday money that was burning a hole in her pocket for a whole 15 hours.
Shirt - American Eagle / Jeans - Silver from Maurices / Bling flip flops - Famous Footwear / Bling cuff - Kohl's / Watch - The Buckle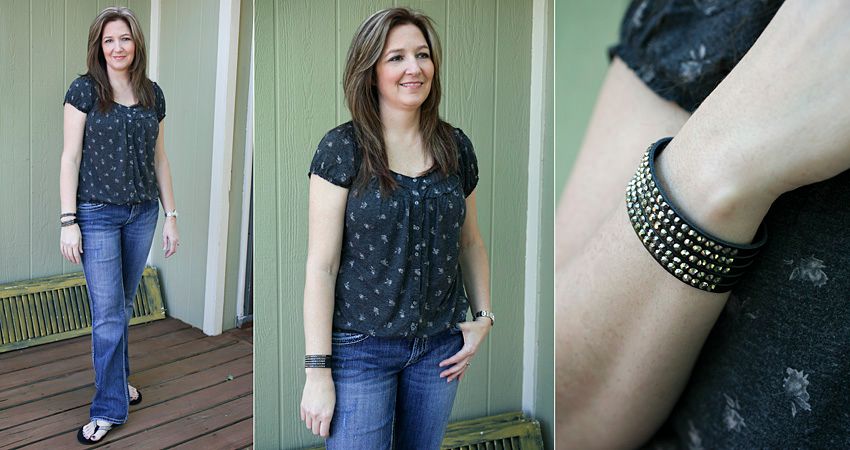 The winter volleyball season has come to an end.  This is what I wore to the final tournament.  I love my bling so I HAD to have this shirt when our daughter made this team.  You could see me sparkling from a mile away.
Bling  shirt - Invasion volleyball / Blue long sleeve shirt - Old Navy / Jeans - Silver from Maurices / Sperrys - Trade Home / Earrings - Icing / Watch - The Buckle
Another dressing room shot.  You can tell I was being good with my shopping by the number ONE behind my head.  I only found one thing to try on.  Lucky for me, it fit! :-)  This is what I wore shopping that day.
Shirt - New York & Co. / Jean shorts - American Eagle / Belt - American Eagle / Flip Flops - Reef / Watch - The Buckle
Don't forget to enter our giveaway for a $15 iTunes gift card HERE.  Then be sure to check out The Pleated Poppy and Watch What I'm Wearing on Watch out for the Woestmans for What I Wore Wednesday.