WIMCW is back this week - kinda. I did get several images of my outfits. The only problem is they were all with my cell phone.  My "big" camera is at the camera hospital and the battery was dead on my back up so I took the lazy way out and used my camera phone.  The quality of the pictures leaves very little to be desired but I think I like my phone camera because I swear it takes a few pounds off.  No complaining about that!
This first outfit is a testament to the fact that a simple little black dress never goes out of style.  This dress is nearly 15 years old.  I really didn't think I would even still fit into it but I pulled it out at the last minute and it worked perfectly.
Dress - OLD from Spiegel / Shoes - Kohl's from several years ago / "C" necklace - New York & Co / Bracelets - Maurices
I finally got my wedges from TOMS!  I had to return the original pair to get a larger size and after over three weeks waiting on the new pair to ship out, being on hold for over an hour and a half total never getting through to a live person and no response to my emails, they finally arrived.  I learned that TOMS are popular but their customer service is TERRIBLE!
Shirt - American Eagle / Jeans - Silver from Maurices / Wedges - TOMS online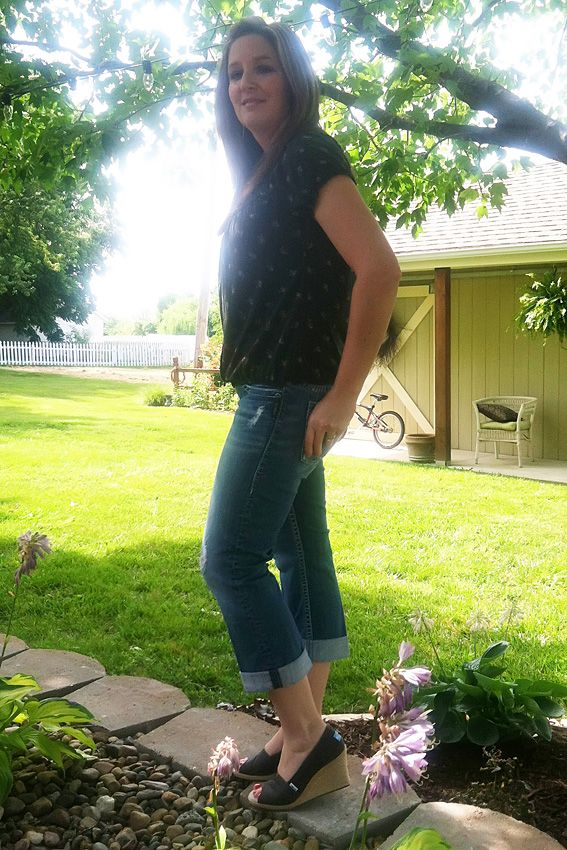 I think I have a slight addiction to shoes.  I also just got these sandals from Target.  Aren't they adorable!?!  They are a bronzy brown and I love them.
Dress and Sandals - Target
Last week my husband, my best friend and I went to the Nickelback concert (for the 2nd time).  They were great as usual but the highlight of my night was when I touched Gavin Rossdale, the lead singer of Bush (Gwen Stefani's husband).  He came way up high into the crowd to the aisle just in front of us and sang.  He's just as good looking up close.  I can attest to that first hand.  :-)
Top - Kohl's / Jeans - Silver from Maurices / Wedges - Target / Cuff - Kohl's / Earrings - Kohl's
This week I'm linking up with The Pleated Poppy and Simply Sarah for some shoe love. Check them out!