Last week was the week of the sports outfits. This week is the week of the "it looked better in the mirror than in real life". Apparently my mirror was playing tricks on me. I really thought these were descent outfits until I edited the pics. First, I tried to combine a few very summery items to make a 75 degrees/early fall outfit.  I found the white sweater in the back of my closet.  I bought it several years ago to go with a 50's poodle skirt outfit and I hadn't worn it since.  It's a perfectly good sweater that I purchased from Target.  Perhaps it would have worked better if it were summertime and not fall.  The gray flowered shirt is from Old Navy.  I like it, but I've only worn it once.  It's strapless and I'm just not comfortable in it by itself.  The 'ol arms aren't as tone as they used to be.  Together with the sweater, it's not too bad.  Maybe I'll try the combo next summer.  The Silver jeans are from Maurices.  More white after Memorial Day with the flip flops from Gap Outlet.  I can't remember where I got the earrings.  The necklace I found at the Holiday Mart three years ago.  The watch is my daughter's from Sparkle.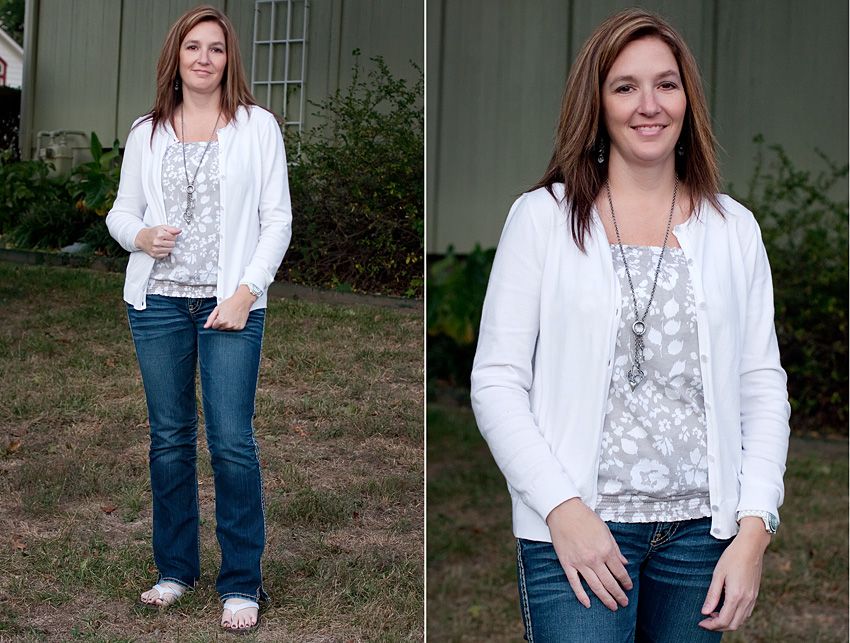 This was an outfit I wore to my daughter's volleyball game...in case you couldn't tell. The shirt was a gift. I think it's been washed and shrunk a few too many times. It's a little snug and short now. The capris from Maurices I've had for several years. I hadn't worn them all summer because I thought they were too tight. For some reason I tried them on and, to my surprise, they fit. I'm just not fond of them paired with that shirt. The flip flops are from Famous Footwear because there is no such thing as too much bling. Again, I can't remember where I bought the earrings.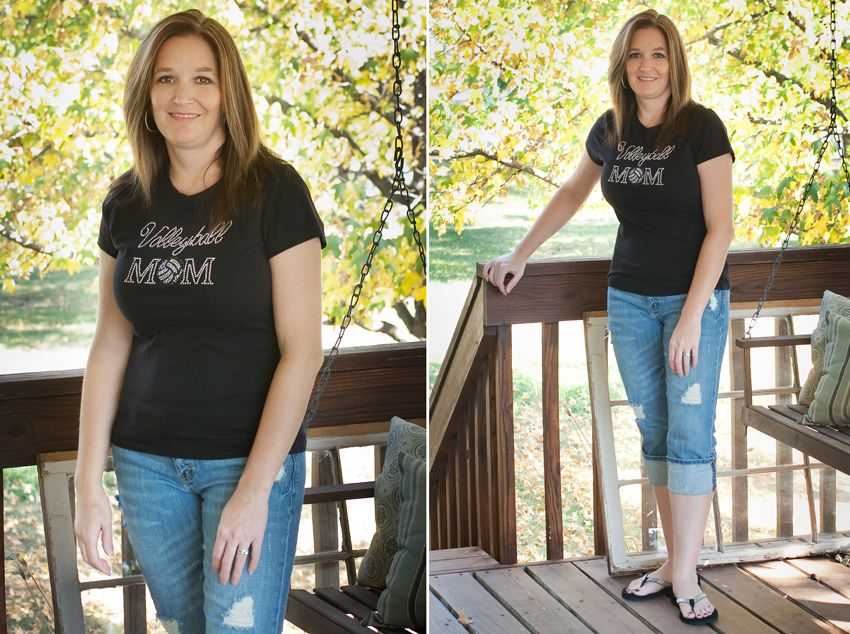 Hopefully I'll have better luck with my outfits next week. I think I'll get a new mirror.  That has to be the problem.  As always, I'm linking up with The Pleated Poppy.