This past weekend I was able to grab a few pictures of my extremely casual outfits. Since fall weekends are filled with football, this week's outfits are sports themed. Our Friday nights are spent at the local high school football games. I'm on the field taking pictures, hubby is in the press box running the play clock and the kids are hanging out with their friends. Literally, as we were running out the door, I noticed that our daughter was wearing an outfit very similar to mine. That called for pics! Our son was wanting to leave and I forced him to take some pictures before he left. Big mistake! Pretty much every picture was either blurry or of me with the worst possible look on my face. Don't even tell me he didn't do that on purpose. Since those are the only pictures I had, I am sharing.

Yes, our school mascot is a Rooster and I'm proudly sporting a cozy Roosters sweatshirt. Jeans are from the Buckle. My new black and purple Nike tennis shoes matched perfectly. The purple gemstone ring was a gift and the hair flower is by me, ChristyB Boutique.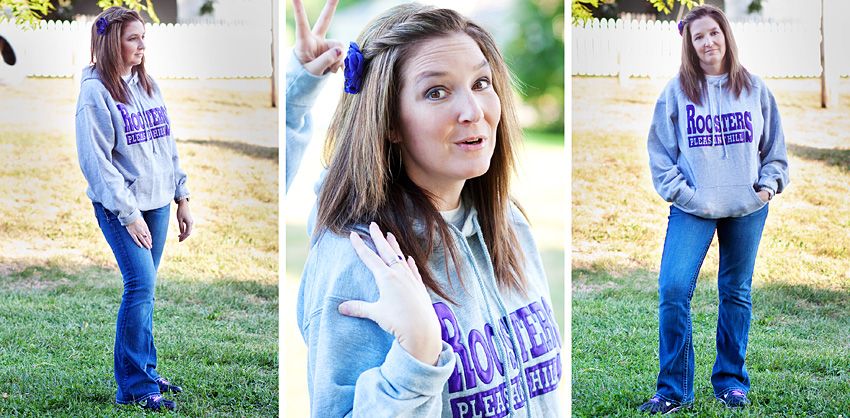 Kylie is also wearing a Roosters sweatshirt, black yoga pants from Gap Outlet, last year's version of the black and purple Nike tennis shoes and a pony-o by me, ChristyB Boutique.  We've even got similar twists in our hair.  Purely coincidence, really.




Saturdays mean college football. M-I-Z...Z-O-U! Once again, our daughter, too, was dressed in MU attire. I think she secretly likes dressing like her mom. :-) That's better than me dressing like her, I guess.

The old MU shirt is from Kohl's, Silver capris from Maurices and Nike flip flops from Dick's Sporting Goods.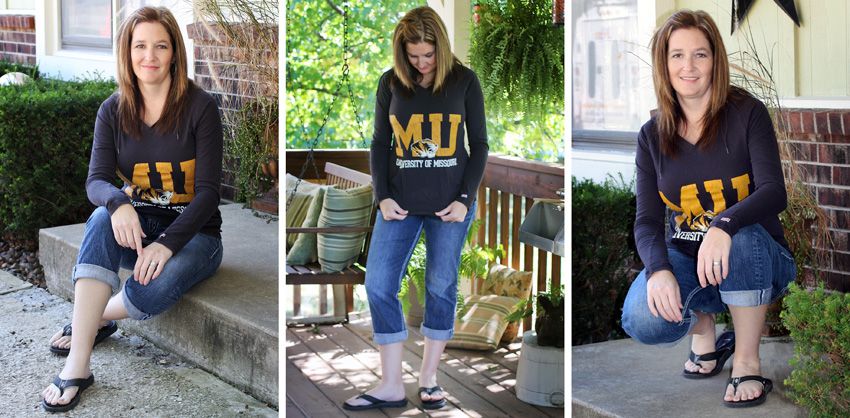 Kylie's MU shirt and bling sweat capris are from Gordman's and she's wearing the same purple and black Nike's.




On Sunday it was time for some NFL. I actually did sport my Chiefs attire but I made sure not to leave the house in it. (If you don't follow football, the Chiefs are pretty bad this year.) I was cleaning during the commercials and the ponytail and no-make up look was just something I wasn't willing to capture in pictures. I think the above pics are embarassing enough.

As always, I'm linking up with The Pleated Poppy for more outfit inspirations.