We are in the final days of our 3rd birthday celebration, but you still have time to enter to win a FREE portrait session with Christy B Photography.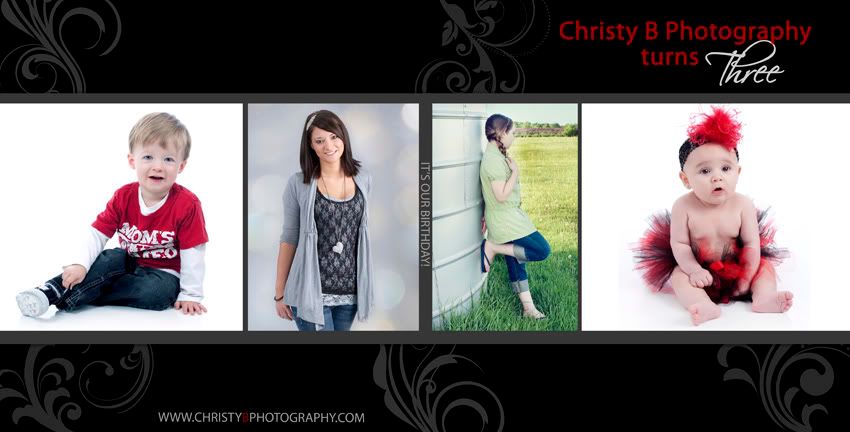 All you have to do to enter is let us know you want to WIN by July 30, 2010. We will draw the name of one lucky entrant on July 31st. We'll work with the winner to style their complimentary session for a totally unique portrait experience.
Here's what you need to do to enter: 1. Drop us an EMAIL and let us know why you would like a complimentary portrait session. 2. Attach a picture so we can put a face with a name and your name will be put into the pot a second time. 3. Add a comment on our FACEBOOK PAGE birthday post and your name will be put into the pot a third time. 4. Leave a comment on this birthday blog post have your name entered a fourth time.
Entries will be given a number based on the order their entry is received. On July 31, 2010 a number will be drawn using Random.org to determine the winner. The free session must be scheduled between August 1 and September 31, 2010.
That's all there is to it. The offer is good to newborns, toddlers, children, teens, high school seniors, EVERYONE! Just drop us an email before July 31, 2010.
Good luck!  And, thank you to all that have already taken the time to enter!!
christyBphotography@comcast.net