Here is the third and final batch of cupcakes I made for my daughter's birthday party. The cupcake is a fudgy chocolate cake with a chocolate malt frosting topped with crushed malted milk balls and finished off with a maraschino cherry.  Listen to me.  I sound like I'm on Cupcake Wars describing my cupcakes to the judges.  Any minute now Florian Bellanger will rip into me about my slightly undercooked cupcakes in his thick accent.  "I'm very dizappointed in ze texture of ze cakez you have prezented." Never fear, you won't find me on The Food Nework making cupcakes anytime soon.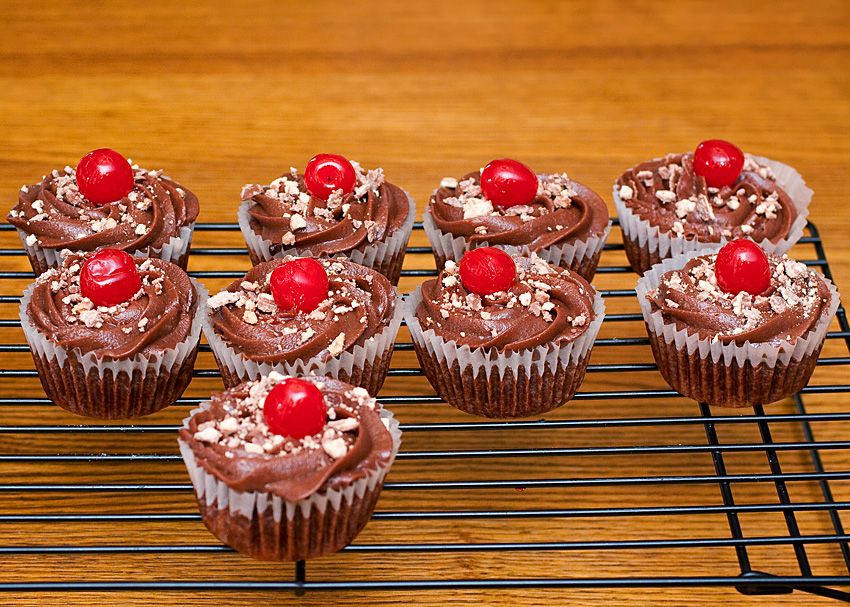 Cherry Chocolate Malt Cupcakes
*Recipe from TheNoshery.com

CUPCAKES
9 Tbs softened unsalted butter
1/2 cup 60% Cacao Bitter Sweet chocolate chips
1 cup cherry preserves
3/4 cup sugar
1/2 cup chocolate malt powder
pinch of salt
2 large eggs, beaten
1 cup all-purpose flour

FROSTING
8 oz package softened cream cheese
1 1/4 cup chocolate malt
1 tablespoon heavy whipping cream
1 (5 oz.) package of Malt Balls (Whoppers), crushed, for garnish

Preheat the oven to 350 degrees. Line cupcake pan with cupcake liners.

Put the butter in a heavy-bottomed pan on the heat to melt. When nearly melted, stir in the chocolate. Leave for a moment to soften, then take the pan off the heat and stir with a wooden spoon until the butter and chocolate are smooth and melted. Now add the cherry jam, sugar, salt and beaten eggs. Stir with a wooden spoon and when all is pretty well combined stir in the flour.

Scrape and pour into the muffin papers in cupcake pan and bake for 25-28 minutes, or until toothpick test comes our clean. Cool in the pan on a rack for 10 minutes before turning out.

When the cupcakes are cool, whisk together all frosting ingredients until smooth and creamy, pipe icing on cooled cupcakes, sprinkle with crushed malt balls and a cherry.

Makes 12 cupcakes.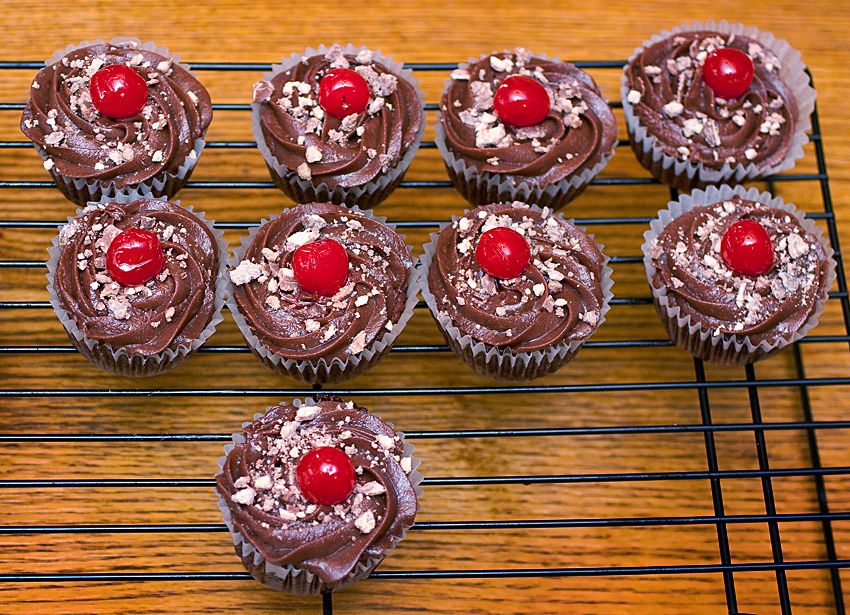 And here are all of the cupcakes on the night of the party.